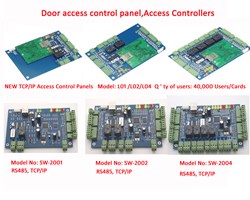 (PRWEB) January 13, 2014
Today, SWAccessControl.com, a well-known network access controller manufacturer from China, announces a special offer on its access control panels, up to 21% off.
SWAccessControl.com has 10 various designs of products in stock, including Network access control panels, RS485 access control panels, TCP/IP access control panels and more. The company has been in the industry for over eight years, and its unique experience enhances the level of its products and designs. Now, all its products are offered at discounted prices. The company aims to expand its global market share through its reliable one-stop access control solutions.
"We are happy to introduce our high quality products to clients worldwide. All the materials we use are grade A, and families don't need to pay a lot of money to buy a premium quality access control system now. We have enough panels in stock now. We welcome OEM orders as well," says the CEO of the company.
Moreover, SWAccessControl.com participated the CES 2014, and showcased its latest designs to the people around the world. "We are excited about the CES 2014. The trade show is really important because it is a big opportunity for our company to show our best products and services for the clients worldwide," the CEO states.
About SWAccessControl.com
SWAccessControl.com is a leading access control system manufacturer and supplier from Shenzhen, China. The company aims to provide the best quality products at reasonable prices for its clients around the world. Its products include fingerprint access control systems, RFID access control systems, proximity card readers, magnetic locks, electric bolts, access control power supplies and more. For more details of the company and its products, please visit: http://www.swaccesscontrol.com/?content/product/category/9/index.html