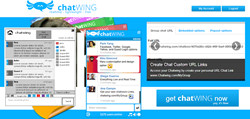 Dallas, TX (PRWEB) January 11, 2014
Due to the several enhancements done by Chatwing website chat app developers to their Android widget, a significant platform speed surge has been observed. This surge, according to the company's researchers, clocked at around 80% and is expected to go higher over the coming months. Here are the features that were subjected to heavy improvements:

Live control panel. Chatwing app's control panel system is one of the features which made it popular. Through this panel, users were able to upload photo and video links, thus boosting any web marketing campaign. As the chat room software gathered influxes of users, technical lags became common. The developers solved this by applying new plugins and regulating the user flow in the chatroom.
Facebook and Twitter login. Chatwing Chat App Team is certain that Android users make up a large cut of the demographics. The team has also noticed that these users prefer logging in with Facebook and Twitter accounts. Some users experienced minor slowdown, prompting the quick response of the Chatwing Team. The Facebook and Twitter login methods were overhauled, thus contributing to the platform's overall speed.
Premium functions. With the help of Chatwing's premium services, users were able to take their chatting experience to a whole new level. The premium services include custom sidebar, Chatwing chat software logo removal, more chatting networks, increased avatars, and secure socket layer. The developers improved the efficiency of the premium functions, making them more reliable than ever.
Android users can always send their concerns to Chatwing's email or Facebook page. The concerns will be handled quickly by the company's online moderators.
About Chatwing.com
Chatwing.com is a company that has brought innovation to the modern chat widget. Operating for more than five years now, Chatwing and its team of developers have dozens of ideas ready to be introduced to the public. The Chatwing chat app is an easy-to-use online tool that can help web users interact with each other and can also generate continuous traffic. Chatwing will always be a "freemium" application for everyone.