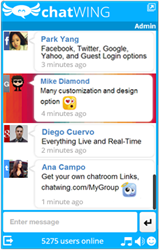 Dallas, TX (PRWEB) January 12, 2014
Chatwing Development Team stepped onto the design community by introducing a reliable Android chat app. The purpose of the chatroom tool is to create a stream of interaction among various users and design experts. The widget is filled with helpful and user-friendly features.

Facebook integration. Design experts who want to showcase their creations to the world can rely on Chatwing's Android tool. It has a reliable Facebook integration method which can be done in just few seconds. With this method, design experts can share their works to Facebook groups and communities. They can also promote their pages in all Chatwing chat rooms app, thus raising visibility.
Greater customization. All registered users of the Chatwing chat software tool can customize their website free chat rooms with relative ease. The average customization time can be finished within minutes, depending on the preferences of the user. To save time, Chatwing Team has prepared hundreds of pre-designed background themes. The user can just apply any of the themes in the account dashboard.
Enhanced chatting networks. Chatwing's array of networks is similar to interest groups—people can just integrate a certain network and they can now explore the niche. Design experts can look for more clients in Chatwing's networks easily. Additionally, users can also create networks of their own. They just need to notify the company's developers regarding the service.
Since Chatwing's chat widget does not have an initial cost, design experts can take this opportunity to expand their markets. More widget information and tutorials are provided on the company's Facebook page.
About Chatwing.com
Chatwing.com is a company that has brought innovation to the modern chat widget. Operating for more than five years now, Chatwing and its team of developers have dozens of ideas ready to be introduced to the public. The Chatwing chat app is an easy-to-use online tool that can help web users interact with each other and can also generate continuous traffic. Chatwing will always be a "freemium" application for everyone.