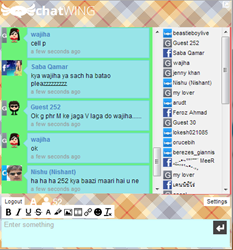 San Diego, CA (PRWEB) January 13, 2014
Chatwing Research Team has launched its latest analysis of the topics circulating within the company's Android chat rooms app. The large portion of the topics is focused on the popular income opportunities for the coming months. Listed below is the detailed information about the popular Android topics in the chatrooms:

Marketing strategies. Web users, especially those from Android communities, are always looking for new marketing strategies to apply. These strategies were shared in Chatwing's Android lounges, benefiting hundreds of people from different parts of the world. Marketing experts can also rely on the Chatwing chat app tool when it comes to building large subscriber groups.
Crafts and designs. New designs and concepts are ready to be introduced for the rest of the year. As researched by the Chatwing Team, people are always looking for new ideas, and communication is essential for this kind of initiative. The website chat rooms can be reliable places wherein people can discuss ideas. This can lead to higher client turnover rate and product exposure. Chatwing developers have also observed that design tutorials are common in the chatrooms.
Financial strategies. The Android lounges were also filled with queries regarding financial strategies and tips. People, especially those who are in the business start-up phase, are looking for ways on how to raise capital. Through the Chatwing rooms, financial experts and even angel investors can share their important tips.
Chatwing Team will continue monitoring the Android lounges since they are still fresh. Maintenance schedules will be posted in Chatwing's chat software blog, Facebook page, and Twitter account.
About Chatwing.com
Chatwing.com is a company that has brought innovation to the modern chat widget. Operating for more than five years now, Chatwing and its team of developers have dozens of ideas ready to be introduced to the public. The Chatwing chat app is an easy-to-use online tool that can help web users interact with each other and can also generate continuous traffic. Chatwing will always be a "freemium" application for everyone.