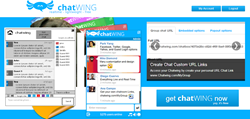 San Antonio, TX (PRWEB) January 14, 2014
In order to spread awareness regarding the Chatwing chat app, the company's developers have created a new podcast that will contain helpful tutorials. The website chat room podcast site will be monitored by admins that were selected from Facebook, Twitter, and Tumblr. Here are the common grounds that will be covered by the podcast site:

Customization tips. Chatwing website chat app moderators will share insights on how to customize chatrooms with ease. These tips range from proper color combinations up to setting admin privileges. In Chatwing's latest platform, users can change font styles and they can even turn off various functions.
Premium usage. Information about Chatwing's chat software premium services will also be introduced in the podcast site. This can help Android users in understanding the full benefits of a Chatwing widget. Currently, the premium services are custom subheader, logo removal, social sharing removal, secure socket layer, and additional chatting networks.
Social media tips. Since social media is an important part of the widget, the Chatwing Team has decided to share tips regarding the premise. Now, Android users will learn how to integrate their accounts easily, and they will also get the chance to expand their social networks. Chatwing's social media integration methods are Facebook, Twitter, Google, Yahoo, Instagram, and Tumblr.
Other benefits. Using the Chatwing widget has numerous benefits for web marketing campaigns, spreading advocacies, raising market awareness, and gathering subscribers. These benefits will be emphasized on the podcast, coupled with helpful content.
Android users can check out Chatwing's Chat Software Facebook page to gain more exclusive knowledge about the chat tool. Maintenance schedules will also be posted in the page.
About Chatwing.com
Chatwing.com is a company that has brought innovation to the modern chat widget. Operating for more than five years now, Chatwing and its team of developers have dozens of ideas ready to be introduced to the public. The Chatwing chat app is an easy-to-use online tool that can help web users interact with each other and can also generate continuous traffic. Chatwing will always be a "freemium" application for everyone.