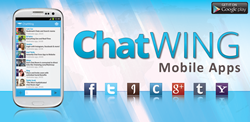 New York, NY (PRWEB) January 15, 2014
After having a large flow of users from the Twitter community, Chatwing website chat app developers started creating a new set of chatrooms. These chat tools are specially designed for Twitter users who want to gather timely news and trends. Listed below are the expected types of news that will circulate in the chatrooms:

Hollywood news and events. Searches about Hollywood are popular, based on different online studies. This is one of the reasons why Chatwing developers are encouraging users to share their Hollywood news and scoops in Twitter chatrooms. Users often discuss the news regarding their favourite Hollywood celebrities and their achievements. Hollywood trends are also common in the chatrooms.
Technology news. The technology niche is filled with news coming from all corners of the cyberspace. Chatwing Team decided to utilize this fact by employing moderators who are knowledgeable in the tech niche. Twitter users can now share their tech tips and tutorials with ease. Gadget reviews have also become more common up to date.
Gaming news. Gaming is also popular in Chatwing's chat software Twitter rooms. More often than not, people are looking for gaming tweets since they want to gather information about their favourite games. This information can be related to gaming tips, secrets, release dates, and activation codes. Prices of gaming consoles are also being discussed.
Business and finance. Chatwing developers believe that there is always news in the niches of business and finance. When the developers sparked discussions about these niches, the chatrooms had high rates of visits from many users. As Chatwing Team plans to continue this trend, it is expected that the Twitter website chat rooms will have more users.
Aside from gathering news, Twitter users can rely on the Chatwing chat software app when it comes to building relationships. The chat tool is known for its user-friendliness, flexibility, and proper social media integration.
About Chatwing.com
Chatwing.com is a company that has brought innovation to the modern chat widget. Operating for more than five years now, Chatwing and its team of developers have dozens of ideas ready to be introduced to the public. The Chatwing chat app is an easy-to-use online tool that can help web users interact with each other and can also generate continuous traffic. Chatwing will always be a "freemium" application for everyone.