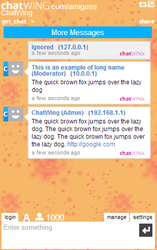 New York, NY (PRWEB) January 16, 2014
In the recent study done by Chatwing's team of researchers, a standard 70% surge of users has reached the company's database. These users came from different forums and online sectors. The reason emphasized by the developers is the creation of Chatwing's website chat app newest Twitter chat tool.
The Twitter app is meant to help users gather more information about a wide range of topics. The app is also embeddable, so users can rely on the stream of traffic that it can provide. Additionally, the tool also has social media integration—people can log in with Twitter and Facebook accounts. Recently, the Chatwing chat room software has added Instagram and Tumblr login methods.
Chatwing chatbox is also reliable in accomplishing website marketing campaigns due to the visibility that it can provide. In another research, a single Chatwing website chat widget tool has doubled the traffic rates of blogs. This research was taken from Wordpress and Blogspot demographics. The Chatwing Team is strongly committed to progress—the developers are constantly pushing for maintenance checks, platform enhancements, and online studies.
Premium services for Twitter users are also up and running. Now, users can ask the Chatwing Team for customized chatrooms, additional chatting networks, and even blog creation assistance. Other premium services include custom sidebar, Chatwing chat software logo removal, and secure socket layer application.
Twitter users who want to experience the communication advantage posed by the Chatwing tool can check out the company's Facebook page. The developers often post updates, schedules, and events in the page.
About Chatwing.com
Chatwing.com is a company that has brought innovation to the modern chat widget. Operating for more than five years now, Chatwing and its team of developers have dozens of ideas ready to be introduced to the public. The Chatwing chat app is an easy-to-use online tool that can help web users interact with each other and can also generate continuous traffic. Chatwing will always be a "freemium" application for everyone.