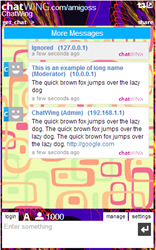 Boston, MA (PRWEB) January 18, 2014
Chatwing developers has recently introduced a special chat app meant for the continuous discussion of social news. According to several studies done by the developers, social news is becoming more rampant because of numerous changes in the cyberspace. Chatwing's chat box tools can help people exchange insights regarding a myriad of interesting topics.
"Social news is a way for people to gain a better understanding of the cyberspace. We cannot deny the power of the Internet. Every day, something is happening. Every day, a website breaks down and a new one takes its place. Here at Chatwing, we take pride on communication. Our new chat tool can help social news experts in sharing their insights to the world," Mike Diamond explained. He is one of Chatwing's chat software elite developers and strategists.
Chatwing widget's Facebook login method is one of the prized features. With this feature, people can use their Facebook accounts in online chatting. They can also expand their social networks easily; this is the main reason why Facebook page owners have been using the Chatwing tool for their purposes. Other login methods integrated in the Chatwing app are Twitter, Tumblr, Instagram, Google, and Yahoo.
The embeddable Chatwing app is not just limited to social news discussions. It can also be used for website marketing, e-commerce, product awareness, advocacies, focus group research, online study sessions, file-sharing, and many more. Developers consider the Chatwing free chat software tool as a 'progressive widget' that continues to improve according to client demand.
About Chatwing.com
Chatwing.com is a company that has brought innovation to the modern free chat widget. Operating for more than five years now, Chatwing and its team of developers have dozens of ideas ready to be introduced to the public. The Chatwing chat app is an easy-to-use online tool that can help web users interact with each other and can also generate continuous traffic. Chatwing will always be a "freemium" application for everyone.