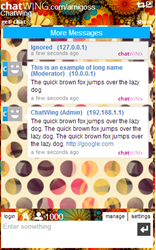 Dallas, TX (PRWEB) January 19, 2014
Chatwing chat room software has reached out to student interest clubs by creating a new chat tool equipped with premium functions and advanced customization engine. The live chatbox, formally known as Chat App 3.5, is capable of doubling or tripling traffic rate within few days of usage. The developers have emphasized the key advantages of the embeddable chatbox.

Faster communication rate. Since Chatwing chat box tool is straightforward, users can communicate quickly and with relative ease. Registration takes only a few seconds. After that, the user can choose to modify the widget or use it right away. There are also different social media login options: Facebook, Twitter, Google, Yahoo, Instagram, and Tumblr. With these options, attendees of student clubs will have a flawless chatting experience.
Continuous website traffic. Once Chatwing free chat software is embedded to a website, it will produce higher traffic rate. Since the widget acts like an online lounge, the visitors can share their opinions and suggestions regarding the website's topics. For student clubs, moderators can start discussions about subjects, research methods, and even extra-curricular activities. The widget also keeps track of all messages, so students can check out useful information left by any user.
Premium services. Chatwing free chat widget has an array of premium services that users can choose from. These services are custom subheader, Chatwing logo removal, social sharing option removal, secure socket layer, additional chatting networks, and additional background themes. Each premium service costs only 1 virtual coin, and this is equivalent to $ 1.
Chatwing developers are always planning for big changes in the platform. Information about these changes and enhancements will be posted in Chatwing's blog and social networks.
About Chatwing.com
Chatwing.com is a company that has brought innovation to the modern chat widget. Operating for more than five years now, Chatwing and its team of developers have dozens of ideas ready to be introduced to the public. The Chatwing chat app is an easy-to-use online tool that can help web users interact with each other and can also generate continuous traffic. Chatwing will always be a "freemium" application for everyone.