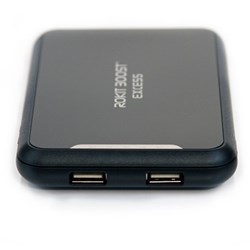 The Excess 6000 Battery Pack Can Charge Your Both Devices Simultenously
New York, NY (PRWEB) January 13, 2014
According to industry research put out by Gartner Research earlier this week, the number of mobile devices being shipped out in 2014 will reach record-breaking levels. Smartphones and tablets featuring the Android platform are projected to emerge in the hands of 1.1 billion users globally, up 26 percent from last year. In addition, an additional 344 million iPhone s are expected to be shipped throughout the world, an increase of 28 percent from the amount shipped in 2013.
Naturally, much of that growth is in popular user markets such as the United States. In response to the heightened consumer demands that will come with this growing user base, Rokit Boost is offering the Excess 6000, an external battery pack that charges today's most popular mobile devices 4x faster than leading charging devices for mobile devices.
The Rokit Boost Excess 6000 fast charges tablets, smartphones, or any USB-enabled device—it is therefore compatible with the iPhone, iPad, Android Phone, HTC, Galaxy, and other often-used mobile devices of today. Sporting a 6000 mAh battery and dual USB ports, the power bank allows for multi-charging, enabling mobile consumers to fast charge two mobile devices at the same time.
Optimal Functionality, Uncompromising Value
The Excess 6000 weighs only 8 ounces, making it easy to take anywhere. State-of-the-art circuitry safeguards the travel charger from overheating, over-currents, overcharging or over-discharging, and short-circuiting. The Excess 6000 is also highly durable, brandishing a specially designed to absorb impacts from falls or other accidents so that its performance efficacy remains uncompromised.
Easy Monitoring and Automated Function
Blue LED light indicators keep users apprised of the Rokit Boost Excess 6000's battery status at all times, and the power bank automatically shuts off while not being used for longer standby times.
Features at a Glance

Power bank 6000 mAh battery capacity and 2 dual USB charge ports
Charges any popular mobile device or USB-friendly device 4x faster than leading charging devices
Weighs only 8 oz and features strong durability
External Battery Pack 2 USB Output - 1A and 2.1A
Automated shutoff function for longer standby times
LED light indicators for battery life status
More information about the Rokit Boost Excess 6000 can be found at Rokit Boost official website.
About Rokit Boost
Rokit Boost is a pioneer and provider of high-end, luxury mobile accessories. The company brings great value to mobile lifestyle consumers by offering accessories that markedly improve the user experiences of existing electronic devices.
Whether engineering iPhone charger cases, Bluetooth headphones, or wireless Bluetooth speakers /microphones, Rokit Boost's team leverages leading-edge technological improvements to enhance the usability of today's most popular mobile devices. Rokit Boost's first priority is giving its customers complete satisfaction, with a philosophy of great customer service, great prices, and, above all else, great-quality products.