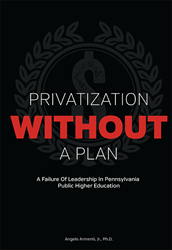 The battle to reduce the undue and corrosive political influence of State government on public higher education institutions in Pennsylvania began with ASCO five decades ago but is far from over.
Chesterbrook, Pennsylvania (PRWEB) January 13, 2014
The book describes the effect that the divided loyalty of PASSHE's 100% political leadership is having on the students and the 14 PASSHE universities in Pennsylvania, which include Bloomsburg, California, Cheyney, Clarion, East Stroudsburg, Edinboro, Indiana, Kutztown, Lock Haven, Mansfield, Millersville, Shippensburg, Slippery Rock and West Chester.
That "privatization without a plan"—i.e., the rapid defunding by the State without a longterm plan for the consequences—is the problem that PASCU was created to solve was first proclaimed in a document entitled A Brief History of PASCU² which was presented by Angelo Armenti, Jr., PASCU founder and president, at the First Annual Meeting of PASCU in Harrisburg, Pennsylvania on March 16, 2013.
As described in that document, the idea for PASCU was inspired by reports of the Association of State College Organizations (ASCO) that Charles Keller and Bracken Burns successfully worked with 45 years earlier to help the Pennsylvania "state colleges" that would later become the PASSHE "state-owned universities" of today. At that time, Charles Keller was a young attorney and alumnus of California University (Cal U), and Bracken Burns was the student government president at Indiana University (IUP).
During the gubernatorial campaign of 1966, Milton Shapp took on Raymond Shafer who was running for governor after serving one term as lieutenant governor. Charles Keller had conversations with both candidates during that campaign on behalf of ASCO and, according to Armenti, sought to comprehend as well as influence both candidates' positions with regard to the Pennsylvania State Colleges at that time.
Mr. Shapp was said to be dismissive of ASCO's goals and aspirations, while Mr. Shafer was respectful and accommodating. Shortly thereafter, with ASCO's endorsement and help, Shafer won the governor's race with 53% of the vote and a winning margin of nearly 250,000 votes.
And Charles Keller, according to Armenti, has a magnificent photograph on his office wall showing Gov. Shafer signing the law that ASCO supported and which helped advance the state colleges. In the photo, a number of smiling individuals stand proudly behind him, including Charles Keller and Bracken Burns!
At that time, the State colleges in Pennsylvania were part of the Executive Branch of State Government, with the college presidents reporting directly to the Secretary of Education in the Governor's Cabinet. The college presidents were pure political appointees then—nominated by the Governor and confirmed by the Senate.
The law that Gov. Shafer is seen signing in the photograph reduced the direct political influence of the secretary of education over the State colleges somewhat, but didn't go so far as to eliminate the requirement that the college presidents be political appointees. That particular historic advance along with several others in the governance of these public higher education institutions did not occur until Gov. Thornburgh signed Act 188 of 1982 into law, a great improvement over the then status quo.
"Historically speaking," according to Armenti, "the battle to reduce the undue and corrosive political influence of State government on public higher education institutions in Pennsylvania began with ASCO five decades ago but is far from over."
Act 188 turned the State colleges into State universities, reporting not to the secretary of education, but to a 'public corporation' known as the Pennsylvania State System of higher Education (PASSHE), led by a Board of Governors whose ex-officio members includeᶟ the Governor of the State, the secretary of education, and four other elected officials from the State Senate and State House of Representatives.
"Three decades after the law went into effect, the ongoing failure of PASSHE's 100% political leadership to deliver the promise of Act 188 makes it clear that further action is needed to reduce and eventually eliminate the damaging results of inappropriate political interference in the governance of the fourteen PASSHE universities. And PASCU is an organization perfectly aligned to lead that effort," Armenti said.
¹ Privatization Without a Plan: A Failure of Leadership in Pennsylvania Public Higher Education is on sale now, available from Amazon.com in paperback and e-book. http://www.amazon.com/s/ref=nb_sb_noss?url=search-alias%3Daps&field-keywords=angelo%20armenti.
² https://www.keepandshare.com/doc/6759613/pascu-pam-1-a-brief-history-of-pascu-march-16-2013-pdf-400k
ᶟ https://www.keepandshare.com/doc/6772880/act188-pdf-405k.
ABOUT THE AUTHOR
Dr. Angelo Armenti, Jr. served as President of California University of Pennsylvania (Cal U) from 1992 to 2012. Before that, he was a Dean at Villanova University, a professor of physics, and author of The Physics of Sports (American Institute of Physics, 1992). During his career at Cal U, Armenti is credited with establishing numerous funding sources for student scholarships and for campus revitalization projects, efforts made in part to address the problems that he describes in Privatization Without a Plan. In June of 2012, Armenti founded a non-profit corporation entitled The Pennsylvania Association of State Colleges and Universities (PASCU) whose mission it is to preserve the purpose of public higher education in Pennsylvania. He also writes for his weekly blog at http://angeloarmenti.blogspot.com/.