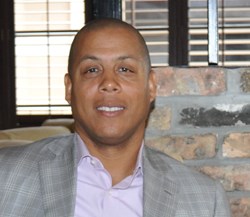 Evolution Sports Partners will bring the best strategy, people and technology to college and pro sports.
Morristown, NJ (PRWEB) January 13, 2014
Damon Evans, Athletic Director at University of Georgia from 2004-2010, has formed a new consulting, professional services and technology solutions company called Evolution Sports Partners. Evans has partnered with Tracy Howe and Peter Kraft, veteran marketing and technology executives who founded 3 previous businesses in the higher education and sports markets.
The company brings a new breed of consulting and advising services backed by professional action and innovative technology.
Most recently, Evans was with IMG College, where he helped to establish a new Fundraising division for Intercollegiate Athletics. Through his guidance, the new division has been successfully integrated into IMG College's other highly successful business units, offering clients a holistic and comprehensive solution spanning media rights, ticket solutions, seating and now, fundraising.
"My experience at IMG was outstanding, and we accomplished what we set out to do, positioning the new fundraising division alongside the other, extremely successful business units of IMG College. I am extremely fond of Ben Sutton, Mark Dyer and the entire team of professionals at IMG College. I not only wish them continued success following the WME acquisition, but look to continue a working relationship with IMG through my new business, Evolution Sports Partners."
Evolution Sports Partners, or ESP, provides a host of professional advisory services to collegiate and pro sports, including, but not limited to: strategic plans, division reclassifications, feasibility studies, market entry strategies and organizational assessments and audits. But the key differentiators for ESP are what they refer to as Action Advisors™ and Action Tech.
"We take a committed, accountable role in relationships with our clients, ensuring the recommended strategies and plans are executed to achieve the desired results," said Evans. "Consultants may provide strategy but often fall short of execution. Our philosophy is to become an extension of our client's team and assist with executing the plan."
Beyond Consulting and Action Advising, ESP also has Action Tech, a custom technology development division that has created a number of revolutionary products to drive athletic department and professional sport revenue and operational efficiencies. Some of the products include:
FanID™ Program
Developed by SequentialT (exclusive partnership with ESP), this extraordinary program drives fan engagement and data capture, which fuels revenue growth for athletic departments and sports organizations.
FDM360™
Also developed by SequentialT, a data aggregation system that consolidates disparate data sources to drive data efficiency and revenue optimization.
APRise™
Academic Progress Rate Program. A revolutionary, technical solution for predicting and managing APR rates, eligibility and retention.
SAccess™
Student-Athlete Success Program. For incoming, current and outbound student-athletes; includes revolutionary NCAA compliance heuristics
ESP Embedded Analytics™
ESP analysts monitor and influence key operational metrics to ensure positive results for clients.
ESP officially launches on January 15th and is based in Morristown, NJ. Evans will open an additional ESP office in Charlotte, NC.
About Evolution Sports Partners
ESP, founded by Damon Evans, Tracy Howe and Peter Kraft, provides Action Advising™ Action Ownership™ and Custom Solutions to Intercollegiate and Professional Sports.