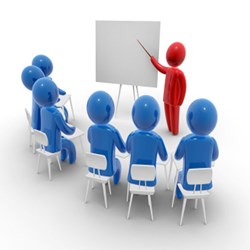 We offer customized training with great group discount rates, to provide engaging, comprehensive, quality instruction.
Wake Forest, NC (PRWEB) January 13, 2014
PM Council, Inc., a leader in Project Management Training, today announced new customized project management training for organizations striving to ensure their staff can leverage the full strength of project management.
There are over 1,000 PMI Registered Education Providers (R.E.P.s) approved by Project Management Institute to provide project management training. PM Council, Inc. underwent valuation by the Project Management Institute Registered Education Provider quality reviewers and met the meticulous constraints for quality training in project management.
Considering the advancements in technology, organizations are now faced with the challenges of having to decide the best method of training for staff, online-based group training or face-to-face instructor led group training. Many organizations are going with the technology based route, where staff completes online based trainings and assessments, while numerous organizations are still going with the traditional classroom style training methods of bringing an instructor in to teach the staff. The training industry continues to face challenges of trying to figure out the best style of learning, face-to-face style of learning versus the online style of learning. While the latter can be an arguably more time friendly method of training, the face-to-face training is beneficial. The average is normally granted at least five to six days of professional skill development and training annually.
There is an interesting influence of functionality of project management staff from all levels after taking project management courses, whether online or face-to-face taught courses. Throughout evaluations of skills and knowledge learned from the courses, organizations have noticed observable improvements with project delivery. External project management certification training for staff is one of the most sought professional development training. Studies have been shown that many professionals in the project management field take project management courses to prepare for the Project Management Professional (PMP®) certification or to earn PDUs to maintain their (PMP®) certifications.
PM Council, Inc. wants to work with organizations to provide their staff with the professional development and group training needed to make their employees more efficient in the project management industry, as well as saving organizations time and money. "We offer customized training with great group discount rates, to provide engaging, comprehensive, quality instruction," states Vickie Callair, President of PM Council, Inc.
These are a few project management courses offered:

PMP Boot Camp Training
Lean Six Sigma
Project Management Fundamentals
MS Project
Let PM Council work with you to meet your organization's training needs.
View our training schedule and sign up for courses at the PM Council, Inc. website, http://www.pmcouncil.com.
About PM Council, Inc.
PM Council, Inc. is a provider of professional service solutions for educational institutions, government, and businesses. PM Council, Inc.'s services include project management consulting, project management training, and professional development.
Established in 2012 and headquartered in Wake Forest, North Carolina, PM Council, Inc. is a Registered Education Provider servicing clients across the United States. Our hands-on and e-learning course content has been designed to provide real-world resolutions, taught by subject matter experts with real-world expertise.