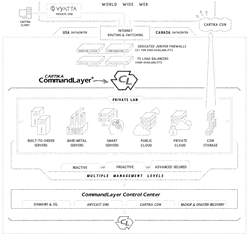 The Cartika CommandLayer bridges the gap between our legacy offerings and our newer IaaS and Cloud based offerings.
Toronto, Canada (PRWEB) January 14, 2014
Starting from as little as $20/month, via the newly announced Cartika CommandLayer, customers can create a resource pool in Canada or the United States and create multiple Virtual Machines in seconds. Create Virtual Machines across multiple tiers of storage (SATA, SAS, SSD) in Canada or the United States as required - while centrally managing all aspects of your service. Complimentary services include Load Balancing, Anycast DNS, Vyatta VPN, CDN, SSL Certificates, Domain Names and Traditional Hosting Services such as cPanel Hosting Accounts and Dedicated Servers.
"The Cartika CommandLayer bridges the gap between our legacy offerings and our newer IaaS and Cloud based offerings. It allows our existing customers the flexibility to maintain their existing solutions while seamlessly adding new platforms, services and solutions as required. It also enables us, as a business, to go into the market with a complete end to end offering. Any customer, or potential customer, can purchase and manage resources on our new platform, across different geographies, as well as, more traditional hosting services in a simple, automated and intuitive manner," says Andrew Rouchotas, Cartika CEO.
Cartika CommandLayer Components
Cartika Public Cloud VPS Solution. A full IaaS offering powered by the OnAPP Cloud Orchestration Platform. Purchase pools of resources within the Cartika Cloud Infrastructure in the United States &/or Canada. Seamlessly build and deploy Cloud Server Virtual Machines. Enable auto-sclaing &/or load balancing to achieve scalability that simply is not available with traditional hosting solutions. Flexible, on-demand billing based on usage ensures users only pay for the resources when needed and easily accommodate bursts as required for marketing campaigns and seasonal businesses. Full API access accommodating programatic control of infrastructure and services. Users purchase pools of network capacity and allocate that capacity across the WAN and LAN networks attached to Virtual Machines as required.
The Cartika Private Cloud Solution. A full IaaS solution for users wanting to purchase dedicated and isolated/private Cloud capacity. Choose how many CPU, RAM, DISK, Network and IOPS resources are required and whether Private Clouds are deployed in the United States &/or Canada. Create as many Virtual Machines within the Private Cloud infrastructure as required and size Virtual Machines however required.
The Cartika Built to Order (BTO) Dedicated Server Solution. A partial IaaS service based on a more traditional physical dedicated server model. For who require physical, dedicated servers without any virtualization layer present. Purchase and centrally manage Dedicated servers in the United States &/or Canada.
The Cartika Cloud VPN Solution. Powered by Vyatta technology. The Cartika Cloud VPN solution enables businesses to connect local office networks, other Datacenters and/or other Private Clouds with the Cartika Network and Infrastructure.
Cloud Load Balancing Solution. Utilize Virtual Load Balancers within Public Cloud &/or Private Clouds. Virtual Load Balancers seamlessly integrate with the Cartika IaaS platform. When combined with the Anycast DNS service, seamlessly fail over between load balancers across different geographies.
The Cartika Backup and Disaster Recovery Solution. Cartika file, database table and database backup and restore solution powered by Bacula4Hosts. Included with every Cartika Proactively Managed environment (15 restore points) and affordably added to any Self Managed or IaaS environment. Every Cartika service that is backed by our Bacula4Hosts backup/recovery solution is enabled to self service restore data for each respective service, right from within the Cartika CommandLayer interface.
The Cartika Proactive Management Solution. Purchase Proactive Management Services on VPS Servers, Cloud Servers, Dedicated Servers or any/all Virtual Machines within a Private VPS Farm or Private Cloud. Cartika secures server(s), scan's servers, takes regular backup's of servers, monitors every possible metric and service within managed systems and proactively responds in a manner which will maximize the uptime of all services running on managed infrastructure.
About Cartika Inc
Founded in Toronto in May 2000, Cartika Inc has established itself as a leader in Application Hosting and advanced clustering technologies. Cartika offers a wide array of infrastructure services, complimented by extensive management solutions and clustering technologies.