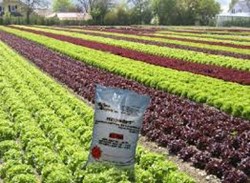 Mineral fertilizer at EurekaMag.com.
Mannheim, Germany (PRWEB) January 13, 2014
EurekaMag.com has newly published 6,939 references and abstracts on mineral fertilizers. The site's Research Category covers this inorganic material of synthetic origin that is added to soil to supply one or more plant nutrients essential to the growth of plants. The Life, Earth & Health Sciences Research Section 15 provides many scientific studies on the effects of additions of mineral fertilizers to promote plant and crop growth and thereby improve yields of important crops. Mineral fertilizers contain inorganic substances, i.e., salts, containing nutrients required by plants. They affect the physical, chemical, and biologic properties of soil and plants. Depending on the properties of the soil, mineral fertilizers undergo various changes that influence the solubility of their nutrients which affect their availability to plants.
The Life, Earth & Health Sciences Research Chapter 14025 presents a selection of the current total of 6,939 references and abstracts on mineral fertilizers including articles on effects of mineral fertilizers and manures on the phosphorus content of a clay soil and on crop yields and quality in a long-term crop rotation, effects of mineral fertilizers on content of vitamin C in potato tubers, effects of mineral fertilizers on humification of lucerne roots and of dung in serozems, effects of mineral fertilizers on vegetable yields and quality, effect of mineral fertilizing with manuring on the carotene and vitamin-C content of green kale, and on effect of mineral nutrition on metabolic change induced in crop plant roots.
EurekaMag.com was launched in 1998 and has become a comprehensive publisher of references in biology, in the applied life sciences agriculture, horticulture and forestry, in the earth sciences, in the environmental sciences, and in the health sciences. After its latest update stemming largely from the agricultural sciences, it contains a total of 38,897,688 bibliographic references from as early as the beginning of the 18th century (1703). 58% of these entries feature a summary of their scientific content. Besides its new streamlined design and a much improved site search, the site features a mobile version for smartphones and frequently updated accounts at Twitter and Facebook.