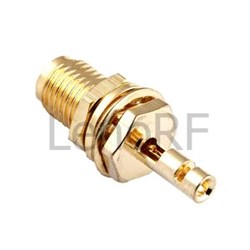 (PRWEB) January 17, 2014
Recently, LenoRF, the reliable connector manufacturer and retailer based in China, has launched a big promotion of its SMA RF connectors. All distributors from around the world can access the discounts. Any order placed before February 10, 2014 can get a discounted price, up to 28% off.
The company's online workers have updated its online product catalog. Now, worldwide customers can find the detailed information about the special offer at its online shop. When it comes to quality, the company's products are excellent. It offers top quality items only. According to the CEO of the company, all its brand new SMA RF connectors are delicately made by qualified workers.
LenoRF is a popular company that offers a wide range of high end products at low prices. It has a wide selection of wonderful products for sale, including RF connectors, coaxial connectors, cable assemblies, microwave devices and many other related products. What's more, it provides big discounts frequently to facilitate customers throughout the world.
For additional information, LenoRF has a team of friendly and knowledgeable workers. At its online shop, all the sales representatives are ready to answer any questions. Clients can also make a phone call if needed.
About LenoRF
LenoRF is a famous global manufacturer of coaxial connectors and cable assemblies. The company has been specializing in the industry for several years and it insists on providing effective turnkey solutions for radio frequency system. Its customers include worldwide OEMs, distributors and system integrators from various fields like broadcast, land-mobile, wireless communications, microwave market sectors and so on.
For more information, readers can visit http://www.coaxial-connector.com/product/sma-connectors-female-bulkhead-for-rg-178/