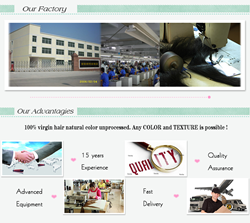 (PRWEB) January 13, 2014
The development of fashion trends has recently stimulated the demand for Filipine virgin hair wefts. Recently, EQhair.net, a reliable hair weave manufacturer, wholesaler and retailer, announced its deep wave Filipine virgin hair wefts.
These Filipine virgin hair wefts from EQhair.net are offered in different lengths (8, 10, 12, … 28 inches) and styles (straight, wave or curl). Each hair extension comes in about 95-100g in weight. They are made with I00% Filipine virgin hair. EQhair.net is famous in the industry, and it aims to provide quality products and service for its customers worldwide.
All its hair extensions from EQhair.net are easy-to-use products. "Curl, crimp, natural wave, up-do, or straight, it is up to you! Just about anything you can do to your natural hair," the spokesman for the company states.
According to the spokesman, the new hair extensions are designed for the ladies who love fashion, so that they can really enjoy the life. The spokesman for the company says that they will release more virgin hair products to satisfy the increasing demand for fashionable hair extensions.
Moreover, to attract more customers online, the company offers an extra discount of 20% off for its customers. When they follow EQhair.net on Twitter or like it on Facebook, Google+ or LinkedIn. The company wants to expand its international effluence through SNS.
About EQhair
EQhair is a leading hair extension wholesaler and retailer. With over 15 years of experience in the industry, EQhair offers a wide range of fashionable hair products at reasonable prices. Its producst are available in 14 shades (from the lightest blondes to the darkest black). EQhair is devoted to providng high qaulity hair extensions for the ladies worldwide, and it welcome any request and review from customers worldwide. More details at http://www.eqhair.net/WEFTS/100-Philippine-virgin-hair.html/Filipine-virgin-hair-deep-wave-top-quality.html.