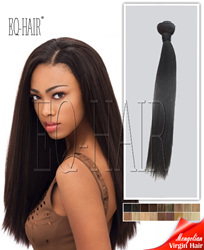 (PRWEB) January 14, 2014
EQhair.net, a leading hair extension wholesaler and retailer, has released its silk straight Mongolian virgin hair wefts for the global market, and launched a hair product promotion to acknowledge the customers.
The silk straight Mongolian virgin hair wefts are made of 100% natural human hair. They are lusciously gorgeous, and extremely light in weight. However, each one of them is durable and awesome. Ladies can enjoy the fullness and the natural flowing beauty of real Mongolian hair. The top designer of EQhair.net says that ladies can mix and match their Mongolian hair wefts (8, 10, 12,... 24, 26, 30 inches) in different lengths to create celebrity hair styles that will blow everyone away.
"Each of our Mongolian virgin hair wefts maintains its soft texture, however carries a heavier density. They can be styled by any styling tool, so that they look like a customer's own hair." The designer adds.
To make more people can experience its top quality silk straight Mongolian virgin hair wefts, EQhair.net provides an extra discount of 20% off when ladies follow EQhair.net on Twitter or like it on Facebook, Google+ or LinkedIn. The company hopes to expand its global effluence through SNS.
In addition, EQhair encourages its clients to showcase their personality by sending emails with photos to duke(at)eqhair(dot)net. The company will print the photos in pamphlets, brochures, booklets and posters and more. Everyone has an opportunity to look like a super star.
About EQhair
EQhair is a leading hair extension wholesaler and retailer. With over 15 years of experience in the industry, EQhair offers a wide range of fashionable hair products at reasonable prices. EQhair is devoted to providing high quality hair extensions for the ladies worldwide, and it welcomes any request and review from customers worldwide. More details at http://www.eqhair.net/WEFTS/100-Mongolian-virgin-hair.html/Mongolian-virgin-hair-silk-straight-top-quality.html.