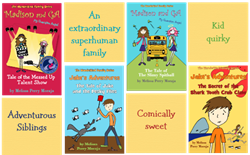 The fifth Wunderkind Family children's chapter book is super entertaining and will be released just in time for summer reading!
Charlotte, NC (PRWEB) January 13, 2014
Author, illustrator and CEO of Melissa Productions, Melissa Perry Moraja, announces today that her fifth super quirky children's fantasy chapter book in the Wunderkind Family series will be available for sale during May 2013, just in time for summer reading.
The Wunderkind Family is an extraordinary, quirky family of six with each book in the series told by one of the four adventurous Wunderkind siblings. This series teaches children that each child has special talents within their family, making each and every one of them extraordinary in their own way.
"I am excited to be publishing my fifth Wunderkind Family modern fantasy children's chapter book, sharing the humorous superhuman life of middle-child Joshua Wunderkind," shares Melissa. "Like all of the Wunderkind Family stories, this book touches on what it's like growing up as a kid, trying to understand your special talents and where you fit in."
In 'The Super Secret', ten year old Josh, born in an extraordinary, quirky family, finally discovers his superhuman ability after a glob of neon green bird poop splatters into his mouth, nose, and eyes. Soon after, his older brother Jake, twin sister Madison, and two neighborhood friends persuade him to create an investigative news reporting team—the Gumshoe News Crew—and keep his super ability secret. Before the team can let the town of Boring Brook know who they are, they first need to go through Gumshoe Boot Camp, where they learn how to investigate and solve their first training case. This story is full of humor, adventure, and kid growing moments, making it a must-read this summer.
"What makes kindhearted Josh Wunderkind's narrated stories so special is that he has just discovered his extraordinary superhuman ability and now is trying to figure out who he will become," said Melissa. "He's funny, loving, and your typical middle-child."
Promotions leading up to the release of 'Josh and the Gumshoe News Crew - The Super Secret' will be announced on Melissa Productions website, http://www.melissaproductions.com and the company's social media sites, Twitter and Facebook. Melissa Perry Moraja stated that she also will be sharing illustrations and pages from her new book on her blog and Facebook page.
Josh and the Gumshoe News Crew - The Super Secret's front cover will be released early February.
About Melissa Productions, Inc.:
Melissa Perry Moraja is an entrepreneurial mom, a multifaceted business woman and a creative producer, authoring and illustrating numerous children's stories and self-help books. Founded in 2009, Melissa Production's mission is to offer humorous, inspirational products and services that promote self-awareness, creative learning, and leadership with the family in mind. With popular story book characters like Splatter, she speaks to children's hearts through humor and parents thoughts by providing educational stories. For more information, please visit http://www.melissaproductions.com.
Contact:
Melissa Perry Moraja
Founder and CEO, Melissa Productions, Inc.
704-246-7304
http://www.melissaproductions.com