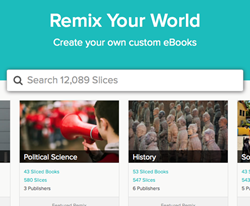 For the first time ebook customers can purchase slices from different ebooks and remix them to get just what they want.
(PRWEB) January 14, 2014
Slicebooks, a web service publishers use to create new custom content by slicing and remixing ebooks, has just launched the new Slicebooks Store in private beta. The Slicebooks Store features ebooks "whole or by the slice" and offers the world's first eBook Remixer. For the first time, teachers, trainers, students, travelers or any ebook customer can mix and match content from various books and instantly create their own custom ebook.
"No other ebook store in the world offers content in this way" said Jill Tomich, Slicebooks CEO. "Over 200 publishers have signed up for Slicebooks publishing services. We designed the Slicebooks Store both to give publishers a marketplace for their sliced and remixed content, and to give their customers a way to purchase it and create their own remixes. This store is integrated with our publishing services to give publishers a complete publishing and retail platform.
Said Tomich, "Now, after slicing ebooks, publishers can automatically upload their new content to the store and give their customers full and flexible access to it. Users then have the option to buy individual slices or whole ebooks, or to combine what they want into their own custom ebook."
Publishers can also license and white label the Slicebooks Store so to have their own branded site, including the eBook Remixer. "Some publishers want to control their own digital content marketplace, and we are focused on providing that service as well" said Tomich.
Tomich expects private beta to last a few weeks. Early responses from publishers have been very positive. "When to launch in beta is never an exact science", says Tomich, "and we've been working on getting the eBook Remixer right for a long time. We're thrilled to say early feedback has been great. We'll be tweaking a few things along the way, but we expect to launch in public beta sometime in Q1."
Publishers interested in joining the private beta should contact Slicebooks at beta(at)slicebooks(dot)com.