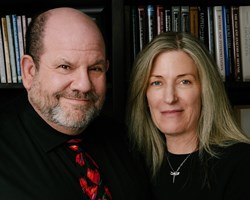 Los Angeles, CA (PRWEB) January 13, 2014
'Your Brain on Love: The Neurobiology of Healthy Relationships' Sounds True 6-CD Audio Learning Course merges current insights from neuro-biology and attachment theory to help shift out of conflict and into deeper and more loving connections.
LA doctor Dr. Stan Tatkin shares simple practices including creating a 'couple bubble' and knowing our personal relating style (the 'Wave,' the 'Anchor,' or the 'Island') which can make an enormous difference in how relationships are sustained, with more joy, intimacy and can even make for better sex.
Audiences will first learn to identify attachment styles—the patterns of intimacy that begin in our earliest years. Then Tatkin guides the audience through the proven principles and practices for building enduring security and commitment between couples, family members, colleagues and even friends. Receive the 6-CD set or an electronic file for download upon request.
Tatkin's bestselling books include 'Wired for Love: How Understanding Your Partner's Brain and Attachment Style Can Help You Defuse Conflict and Build a Secure Relationship' http://stantatkin.com/dividedpage/bookshelf/#ybol published by New Harbinger and 'Love and War in Intimate Relationships: Connection, Disconnection, and Mutual Regulation in Couple Therapy' http://stantatkin.com/dividedpage/bookshelf/#ybol with coauthor Marion Solomon, available through W. W. Norton's Interpersonal Neurobiology Series.
These books and CDs will be provided electronically or mailed upon request.
Stan Tatkin, PsyD, MFT, is a clinician, researcher, teacher, with a private practice in Southern California. He teaches and supervises family medicine residents at Kaiser Permanente and is an assistant clinical professor at the UCLA David Geffen School of Medicine, Department of Family Medicine. Together with his wife, Tracey Boldemann-Tatkin, developed a Psychobiological Approach to Couple Therapy (PACT®) Institute to train clinicians to incorporate a fusion of attachment theory, developmental neuroscience, and arousal regulation to treat couples. PACT® is quickly gaining a reputation for effectively treating couples formerly thought of as untreatable. The PACT® Institute hosts trainings in seven U.S. cities as well as in Australia, Canada, Spain, and Turkey.
Inspiring Promotions is a boutique public relations agency dedicated to promoting some of today's best authors and speakers. Visit http://www.inspiringpromotions/authors then contact us to schedule a media appearance at 415-250-1380 or email suzanna(at)inspiringpromotions(dot)com