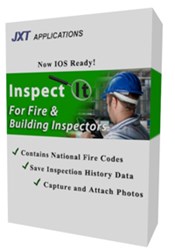 Beavercreek, OH (PRWEB) January 14, 2014
JXT Applications, Inc. released Inspect-It© in May 2013 and since then it has been successfully downloaded in thirteen countries. Inspect-It© is designed for fire and building inspectors or plant managers with periodic facility inspection requirements. Inspect-It© is available in two versions and captures and stores a variety of information.
Inspect-It© (basic version) grabs and holds many important details such as power sources, work areas, exits, hazardous materials, the location and storage of materials and equipment, the type and location of emergency resources, and the location and condition of fire suppression systems. The application is pre-populated with safety codes from the National Fire "Codes and Standards" and saves inspection information to a history file.
Inspect-It Plus© (advanced version) includes all of the basic version capabilities, but it can be customized to local requirements, and includes a camera function. It is also capable of creating an electronic history, of readily accessing this previously collected information, and of emailing the history file(s) to others needing details. For example… should a fire occur later, the inspection information could be sent to the on-scene commander to help identify existing hazardous materials or obstacles and their location in the facility.
JXT Applications developed Inspect-It© through a Small Business Innovation Research Grant from the National Institute of Environmental Health Sciences, Worker Education and Training Program. JXT gained valuable subject matter expertise in the development of Inspect-It© through a volunteer Emergency Services Focus Group that included Fire/EMS departments from the Dayton, OH metropolitan area. It was JXT's goal to develop an effective and affordable inspection tool for municipalities that could not afford the hundreds to thousands of dollars that other companies charge for software or monthly charges. Inspect-It© is available through iTunes Connect (http://www.apple.com/itunes/) in basic ($0.99) or advanced ($4.99) versions for iPhone, iPod or iPad. An Android version is planned for release in the spring of 2014.