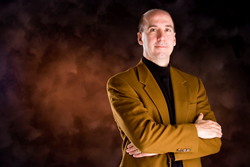 We've come a long way from the first internet appliance, which was a Coke machine, back in the early 1980's. The IoT will soon surround us, and I see it as my job to help people prepare for it.
Atlanta, GA (PRWEB) June 03, 2014
Distinguished keynote speaker, global futurist and best-selling author, Jack Uldrich has been selected to deliver a keynote address in Atlanta at the Marriott Center. The keynote address: "How the Internet of Things will Transform Business" will be presented to the Verizon Wireless Connected Technology Tour.
In accordance with the 2014 Tour theme of transforming businesses and agencies with Machine-to-Machine (M2M) solutions, Uldrich, who is an expert in change management and future trends, will discuss how individuals attending can learn to embrace and leverage the transformational changes that are coming--across all channels.
Uldrich will conclude by providing an overview of how these technological changes, (like a router that is powered by Verizon's 4G LTE network, can serve as a home or office automation hub, or the VGo can help sick kids attend school,) and how these IoT based technologies will virtually upend customer behaviors and transform long-standing business models.
Jack Uldrich is a seasoned and sought after speaker and has addressed hundreds of clients in a variety of industries throughout the world most recently including, the Fireman's Fund Insurance Company, The American Medical Association, Wells Fargo, the Produce Marketing Association, and the Utility Supply Management Association.
Parties interested in learning more about him, his books, his daily blog or his speaking availability are encouraged to visit his website. Media wishing to know more about either the event or interviewing Jack as a futurist or trend expert can contact Amy Tomczyk at (651) 343.0660.