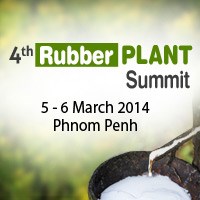 Dual subjects of 'Rubber Plantation Boom in Cambodia driven by Government Initiatives' and 'Balancing Investment Opportunities & Challenges in a Sluggish Global Economy' will be discussed at the event.
Phnom Penh, Cambodia (PRWEB) January 14, 2014
For over 2 days, key officials from Cambodia, Sri Lanka as well as planters, investors, rubber producers & suppliers, rubber research organizations, and other stakeholders along the value chain will examine dual subjects of 'Rubber Plantation Boom in Cambodia driven by Government Initiatives' and 'Balancing Investment Opportunities & Challenges in a Sluggish Global Economy' deliberating on the changing patterns of rubber trade globally, price movement, foreign investment outlook in rubber plantations, socio-economic issues related to rubber as a commodity crop and other pertinent issues.
The summit will open with a Keynote Address by His Excellency Ly Phalla, General Directorate of Rubber Plantations, Ministry of Agriculture, Forestry & Fisheries, to provide an overview on 'Strengthening the Development of Cambodia's Rubber Sector' plus insights on Cambodia's vision to rapidly expand the country's rubber industry. Next presenter will be top official Sudharma Karunaratne, Secretary of the Ministry, Ministry of Plantation Industries, Sri Lanka who will share 'Strategies to Develop Sri Lanka's Natural Rubber Sector' with special focus on moving into non-traditional areas.
Ashish Govil, Global Head (Rubber) at Olam International, a key investor in the rubber and palm oil industry, will enlighten delegates with 'Rubber Investment Strategies for Emerging Markets' and provides tips on leveraging opportunities and avoiding pitfalls. Ashish will share Olam's experience in Gabon – a joint-venture with the Gabonese government in developing 28,000 hectares of rubber plantation. A session on 'Rubber Planting, Supply Potential and Prices: What will be the Future and Why?' will be delivered by Dr. Hidde Smit, Consultant at Analysis and Forecasts Rubber Economy, detailing the macro outlook of rubber and short and long term assessment of rubber price movement.
The summit also features presentations by rubber plantation owners as well as rubber processing companies – Ramesh Veloo from Tradewinds Plantation discusses 'Role and Impact of Operations Audit in the Management of Rubber Plantations' while Sriyan Eriyagama, Director – Kotagala Plantations presents 'Plantation Investment in Cambodia: Challenges & Drawbacks'.
The program will also highlight recent studies on agronomics to increase yield and productivity by leading institute like CIRAD and CRRI. Dr. Regis Lacote, Plant Physiologist and Agronomist of CIRAD, will outline details of 'Understanding the Relationships between Farmers Practices and the Agro-Environmental Performances of Rubber Smallholdings'. Also included in the agenda are focused sessions below:

Marginal Soils of Cambodia: Its Implications for Soil Management under Rubber – Dr. Zainol Md. Eusof, Director – Greenyield
Natural Rubber in Cambodia: Normalization of Budwood Nurseries – Dr. Yin Song, Director – Cambodia Rubber Research Institute (CRRI)
Advances in Agro Management Practices to Enhance Productivity – Joseph John, Director- KA Prevulcanised Latex Pvt. Ltd. (KAPVL)
Apart from the above, other key sessions to look forward to are:
Tire Market Outlook & Impact on Natural Rubber Supply/ Demand Dynamics – Qisheng Tai, Head of Sales & Marketing, Goodway Rubber Industries
Economic Land Concession in Cambodia: Issues & Challenges
Financing Commercial Agricultural Investments in Frontier Markets
Social & Corporate Responsibility in Plantation Developments – David Allen, Director – Spectrum
The 2014 edition of RubberPLANT Summit is further enhanced with an Optional Site Visit to the National Specifications Laboratory of the Cambodian Rubber Research Institute on 6th March 2014.
For delegate registrations, sponsorship and media exchange enquiries for the event, please contact Ms. Hafizah at +65 6346 9218.