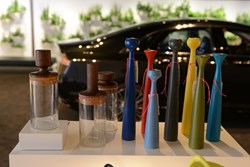 "Dwell shares with Lincoln a passion for forward-thinking design," said Michela O'Connor Abrams, president/CEO of Dwell Media. "We're pleased to partner once again with Lincoln, as this relationship strikes a chord with both of our audiences beautifully."
Detroit, MI (PRWEB) January 13, 2014
Handcrafted watches, bicycles, wildflowers, grasses, and, of course, striking vehicles all will be part of the Lincoln Motor Company's stand at this year's North American International Auto Show. The show is open to the public Jan. 18-26 at Detroit's Cobo Center.
The Lincoln Motor Company welcomes American-based manufacturer Shinola and America's leading design media company Dwell, to the Lincoln show stand with galleries to complement the all-new Lincoln MKC small premium utility and the Lincoln MKZ Hybrid midsize premium sedan.
"It's great to welcome Shinola and Dwell, brands that share our passion for outstanding design and craftsmanship," said Matt VanDyke, director, global Lincoln. "The Lincoln stand at the North American International Auto Show will provide guests with an experience that is informative and immersive."
Lincoln MKC introduces Lincoln Experiences with Approach Detection technology and an embedded modem that enables the MyLincoln mobile app. Available features include a fully turbocharged engine lineup headlined by the 285-horsepower EcoBoost® engine, park out assist, Deepsoft Bridge of Weir leather, Vista Roof®, 19-inch wheels, voice-activated navigation, hands-free liftgate and a host of driver-assist technologies.
Lincoln MKZ Hybrid, the most fuel-efficient luxury hybrid in America with EPA-estimated rating of 45 mpg city and 45 mpg highway, drives new customers to the Lincoln showroom. Nearly 60 percent of its sales are conquest, with the Toyota Prius the vehicle most often traded in.
The watchmakers of Detroit, Shinola is displaying a selection of American-made goods at the MKC gallery on the Lincoln stand. Shinola products will include watches, handmade bicycles, artisanal leather, shoe care polish, curated items and journals created with paper from sustainable forests.
Jacques Panis, Shinola president, said, "We are delighted to join Lincoln Motor Company at NAIAS 2014. Detroit is an iconic global city with a strong manufacturing legacy – we're very inspired by the history, the innovators and what the city stands for. One of our goals is to work with like-minded partners, and Lincoln shares our enthusiasm and commitment to build products with exceptional quality."
Dwell, a leading voice of the modern design movement, is teamed with the Lincoln MKZ Hybrid because the two brands share a common perspective on "Rethinking Green." Highlighting the collaboration is "A Glimpse of Spring," a lush green backdrop of wildflowers and grasses – normally out-of-season plants native to Michigan. Dwell also has curated a collection of products from the Dwell Store around the shared brand characteristics of nature, future, sustainability, entertaining and sanctuary, representing innovation and lasting value.
"Dwell shares with Lincoln a passion for forward-thinking design," said Michela O'Connor Abrams, president/CEO of Dwell Media. "We're pleased to partner once again with Lincoln, as this relationship strikes a chord with both of our audiences beautifully."
Additional highlights of the Lincoln stand at NAIAS include:

Lattice wall with vitrines containing art selections, which also will be displayed at Shinola's midtown store
Lincoln soundscape
Elevated public lounge with a 1932 Lincoln KB Dietrich as the centerpiece
Hoberman Spheres, a blend of art and mechanical engineering that pulses in time with light and sound
# # #
About Lincoln Motor Company
Lincoln Motor Company is the luxury automotive brand of Ford Motor Company, committed to creating compelling vehicles with an exceptional ownership experience to match. Lincoln is in the process of introducing four all-new vehicles through 2016. For more information about Lincoln, please visit media.lincoln.com or http://www.lincoln.com. Follow us on Facebook at facebook.com/lincoln.
Contacts:
Stéphane Cesareo, scesareo(at)lincoln(dot)com, 313.323.8917
Sam Locricchio, slocric1(at)lincoln(dot)com, 313.845.8675