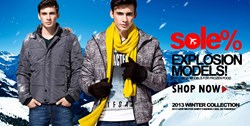 (PRWEB) January 19, 2014
Recently, Skmen.com, a leading company of various kinds of men's and women's clothes, has started to sell cheap men's shirts for 2014. In other words, the company's latest designs of men's shirts are now available at discounted prices, up to 35% off.
A senior spokesman for the company says that the special offer is specially launched to show appreciation to worldwide customers. All new and old clients can enjoy the big discounts. The company wants to help every consumer to save money.
"We are happy to launch the current special offer. All our brand new shirts are featured with soft materials, top quality and fashionable designs. They are available in many hot styles. Every one of them is made with care and professionalism. I think they are perfect choices for worldwide gentlemen. They can certainly add a lot to our company's reputation as one of the leaders in the clothing industry," he says.
As a matter of fact, Skmen.com is excellent in offering a huge selection of award-winning designs. In addition to top quality products, the company has distinctive marketing strategies. Its top designers are making every effort to create more fashionable clothes. The company hopes to gain greater success in 2014
About Skmen.com
Skmen.com, a China-based company founded in 2009, is one of the leading suppliers of men's and women's high quality clothes. It has more than 5000 customers from every part of the world, helping the people develop self-esteem, confidence and love of learning. For more detailed information about Skmen.com and its various kinds of clothes, readers can visit http://www.skmen.com/product-men-s-shirts-009001.aspx.