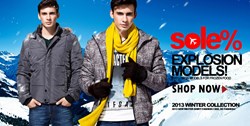 (PRWEB) January 20, 2014
A distinguished manufacturer of men's clothes from China, Skmen.com, has recently updated its new website with a new collection of discounted men's suits. That is to say, all the company's newly released men's suits are offered at discounted prices, up to 35% off.
According to the CEO of the company, the special offer is valid until February 12, 2014. The purpose of such a promotion is to greet new and old customers at the beginning of the New Year. It hopes worldwide customers can know that all their support is appreciated. Now, the prices for the company's high quality suits are quite competitive.
There are over 1000 items in the new selection. The company has listed their names in its online category one by one. They are featured with comfortable fabrics, varied patterns and fashionable designs. More importantly, they are all created by the company's most professional designers.
What's more, the company is one of the leaders in the clothing industry. It has rich experience in creating top quality clothes. A lot of its items are popular in the international market. The aim of Skmen.com is to help worldwide ladies and gentlemen to get their ideal clothes at affordable prices.
About Skmen.com
Skmen.com, a China-based company founded in 2009, is one of the leading suppliers of men's and women's high quality clothes. It has more than 5000 customers from every part of the world, helping the people develop self-esteem, confidence and love of learning. For more detailed information about Skmen.com and its various kinds of clothes, readers can visit http://www.skmen.com/product-men-s-suits-009009.aspx.