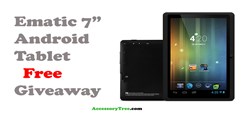 Purchase and Have a Chance to Win!
Walnut, CA (PRWEB) January 13, 2014
As Christmas and New Year have come and gone, it does not mean that there cannot be any gifts or discounts. In fact, this time of the year, there is an exciting offer, especially if one is planning to buy an all new Android tablet.
Wondering what is being talked about? Accessory tree! AccessoryTree is a South California based online retailer with over a 5000 products in its portfolio. The vendor sells accessories for smartphones and tablets of popular brands such as Apple, Samsung, BlackBerry, Huawei, HTC, LG, Nokia, Motorola, Sony, Pantech and others.
The company has announced a monthly contest - AccessoryTree giveaway. As per the terms and conditions, consumers who order any product from AccessoryTree between January 13 and January 29, will be eligible for a huge giveaway. If planning to purchase something from the retailer, there will be a chance to win a 7-inch Ematic Android tablet as a giveaway, automatically.
AccessoryTree giveaway is mainly being aimed to boast the sales of its accessories. Recently, the retailer has also extended its presence online to provide a one stop solution to its consumers. Its wonderful customer support personnel keeps in touch with the consumers enabling the vendor to constantly come up with new changes and innovations.
Despite the giveaway, AccessoryTree is the best place to shop as it offers low priced cell phone accessories everyday. Also, there are a variety of accessories such as chargers, protective cases and headsets for most of the models existing in the market. It is assured that one will be spoilt for choices as the retailer has plethora of accessories.
Ematic is a budget tablet manufacturer, who is said to be aiming at modifying the definition of dirt cheap tablet makers in the market. The vendor has lately announced a 7-inch slate with full Android experience along with access to the Google's Play Store. Termed Genesis Prime, the tablet runs on Android 4.1 Jelly Bean platform and it can prove an effective companion to stay entertained.
Talking more about the manufacturer, Ematic is a renowned manufacturer of portable media players and tablets providing superior quality at reasonable price tags. In the market for almost two decades, the vendor also makes headphones, MP3 players and more. The vendor has chosen to equip its offerings with superior hardware, power packed processors and recent versions of Android amongst other aspects. This way, Ematic is always at a step ahead when compared to the other affordable tablet makers.