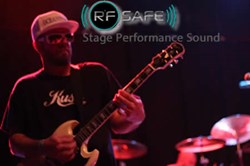 it's a smart headset for a smart phone, it allows me to hear music the way it sounds when I'm live onstage with a perfect sound crew
New York, NY (PRWEB) January 13, 2014
Every time you play music through an RF Safe headset, sounds are blended acoustically while channeled into the ear via a very thin air-tube. Smartphone users of high end devices - like iPhone 4 and iPhone 5 and soon to be released iPhone 6 that want only natural balanced sound of a live on stage performance – need to try an RF Safe Headset using acoustic sound tube technology.
People in the music industry are bringing a lot of attention to the preferred musical sensation of Smartphone sound delivered without electronic components in the ears.
When Guitarist Trevor Dodson was asked why he only uses RF Safe's acoustic sound tube technology – he said, "It's a smart headset for a smart phone. It allows me to hear music the way it sounds when I'm live onstage with a perfect sound crew; if that isn't reason enough I get a certain peace of mind knowing that microwave radiation from my phone isn't frying my brain."
He jokingly says that he does enough things to do that already.
One thing's for sure he goes onto say, "I'm smart enough to know I don't want my habit of jamming to music on my smart phone being responsible for a brain tumor like singer/song writer Sheryl Crow claims happened to her."
RF Safe acoustic sound tube technology was designed to replace out-dated conventional wired Apple iPhone 4s headsets, Apple iPhone 5s headsets, Apple iPad headsets, and Apple iPod headsets. RF Safe Headsets are available in many colors, yet RF Safe appeals directly to Apple users by offering a beautiful white and silver headset model.
RF Safe headsets are made to last; fragile speaker components are sealed in strong anodized aluminum and it's acoustic ear bud chamber is made from the same ultra-light durable non-corrosive anodized aluminum. RF Safe's amazing acoustic sound tube technology produces a sound you will love – from a headset built to last.
The specifications for RF Safe Headsets start with a Φ14.8mm speaker having a frequency range of 20HZ-20,000HZ, Impedance of 32Ω and sensitivity rated for 121±2dBSPL at 1KHZ on a 5mW power rating. Sound your soul can feel!
Most important of all – there are no electrical wires or electrical components in the ears, keeping a safe distance from potentially hazardous cell phone radiation.
RF Safe thinks it's safe to say no-one wants a brain tumor from using a cell phone, and you don't have to be a musician to enjoy stimulating sound through an acoustic sound tube.
RF Safe headsets come in several fashionable colors to fit any lifestyle and make the perfect Smartphone accessory for radiation safe private business conversations or radiation safe entertainment pleasure.
Lear more about RF Safe Headsets for Apple iPhone Smartphones visit http://www.rfsafe.com.
ABOUT RADIO FREQUENCY SAFE – RFSAFE.COM
RF SAFE is the world's premier provider of cell phone radiation protection accessories and informational data. Since 1998 RF (Radio Frequency) Safe has been dedicated to evolving the wireless industries safety standards, by engaging in the business of design, testing, manufacture, and sale of safety technologies to mitigate harmful effects of cell phone radiation!