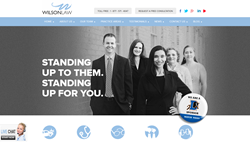 "STANDING UP TO THEM, STANDING UP FOR YOU"
Raleigh, NC (PRWEB) January 13, 2014
According to Managing Shareholder, Kim WIlson at Wilson Law P.A, "STANDING UP TO THEM, STANDING UP FOR YOU" is the firm's corporate slogan. These words reflect the values, goals, and experience this Raleigh based law firm aims to represent to their target audience, meaning that "the firm bears the burden of the client's fight" and the client is "never alone" in seeking justice. This is a powerful message that Wilson Law, P.A. has displayed across its new website with modern day appeal, content friendly design, imagery, and vital information that is essential to their online audience.
Wilson Law, P.A. is a well known and highly respected Raleigh based personal injury law firm focused on providing personal attention, responsiveness, and experience to represent its client's in the courtroom when injured or exploited by large corporations, insurance companies, pharmaceutical companies or health care providers. They are driven to defend the rights and protect the well-being of ordinary citizens in various cases including catastrophic personal injury, pharmaceutical liability, medical malpractice, elder law & estate planning, fracking, products liability, and wrongful death cases. The firm's passion for giving its clients what they deserve meant stepping up their online presence.
To take their website to the next level, Wilson Law, P.A. hired the Raleigh area's finest web design experts at Imaginovation, which is a web design, software, and SEO company to re-vamp the user interface and user experience, which is geared to offer the firm's client's and potential leads with easy access to their practices, 24/7 online support, helpful information through blogs and news releases, and an easy reach to contact them directly for help. The website incorporates the most up-to-date web design trends such as flat design imagery and iconography, user-friendly navigation of information, and an overall eye-catching design to increase interactivity on the site.
In addition to Wilson Law's website efforts, its social presence and search engine optimization on Google has also made its way to becoming one of the best in Raleigh for campaign marketing. The integrated social media campaign offers prospective clients easy and available access to information and support on various legal issues. Feel free to reach out to Wilson Law, P.A. at http://www.wilsonlawpa.com.