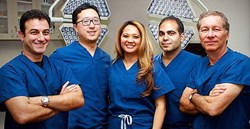 We are happy to provide better results and care through robotic surgical technologies to help improve care for our colorectal patients.
Beverly Hills, CA (PRWEB) January 14, 2014
Robotic Colorectal surgery is a significant advance in today's surgical care and is being used by the surgeons of Los Angeles Colon and Rectal Surgical Associates (http://www.lacolon.com). The surgeons believe that robot-assisted surgery is a benefit to patients needing certain types of colon operations for malignant or benign diseases.  
With the relatively recent transition from open surgical techniques to minimally invasive operative procedures, surgeons have improved the lives and postoperative courses of many patients. Robotic technology, the newest advance in minimally invasive surgery, is associated with increased operative field visibility, ease of intracorporeal suturing, decreased postoperative pain, decreased blood loss, shorter hospital stays and faster recovery when compared with open procedures.  Robot-assisted operations are another tool in the ever-expanding set of surgical skills being brought to bear on the treatment of colon and rectal conditions.
Each of the surgeons of Los Angeles Colon and Rectal Surgical Associates is certified in the use of this exciting technology. To achieve certification, each surgeon participates in a process that demonstrates knowledge regarding the use of the technology in a safe and clinically relevant manner. After having demonstrated many years of technical expertise in minimally invasive laparoscopic skills and techniques, surgeons are able to certify in robotic-assisted procedures. The certification process involves intense didactic and operative training, skills assessments, demonstration of comfort with robotic procedural techniques, and a final testing of surgical skills and abilities.   
The Los Angeles Colon and Rectal Surgical Associates surgeons are part of a select group of colorectal surgeons at Cedars-Sinai Medical Center trained to use robotic technology in colorectal surgery and general surgery. With a large case volume, the use of robotic technology is a tremendous addition to the surgical armamentarium.
Due to the limited space in the human pelvis, a physician is challenged by difficult operative field visibility and maneuverability. Both laparoscopic and robotic systems are known to assist in overcoming this space limitation. This explains the growth of minimally invasive technologies. Robotic technology provides even better visibility and magnification in the narrow confines of the pelvis, and is seen as an advance over the already excellent laparoscopic approach. In colorectal surgery, robotic-assisted operations could become the primary surgical method for resection of pelvic tumors, distal and left sided colonic tumors and complicated resections or re-operative resections. Additionally, the technology lends itself to the treatment of certain benign conditions such as rectal prolapse, enterocele repair and colon resections for various benign diseases.
According to Gary H. Hoffman, M.D. senior surgeon of Los Angeles Colon and Rectal Surgical Associates, "breakthroughs in medical and surgical technology  are helping surgeons deliver better results and care to patients in a skilled and unprecedented fashion. As such, robotic surgical technologies can improve care for both patients and surgeons, with advances in imaging and the physical handling of tissues."
In regards to robotic imaging technology, features include two cameras which provide 3-Dimensional, high-definition vision, instant image referencing, and fluorescent vascular imaging, whereby the vascular perfusion of the anastomotic area can be evaluated. The system has two high definition cameras used to provide stereoscopic vision and magnified views during surgery, allowing for close up, clear images. Surgeons can also reference CT images or ultrasound diagnostics taken prior to surgery, directly in the console next to the view of the operative field. Fluorescent vascular imaging uses intravenous indocyanine green during resection to obtain potentially a more thorough evaluation of the vascularity of the colorectal anastomosis.  
The technology also increases productivity during the actual physical procedure by providing an additional arm (the "third arm") and mechanical wrists, which are scaled to move with the surgeon during operations. For example, the arm can be applied to hold a retractor or other surgical instruments, providing 50 percent more operating capability to the surgeon. The mechanical wrists may carry a variety of specialized instruments that operate similar to a human wrist, but with an even greater range of motion. Lastly, the surgeon can calibrate the robot's arm to move a fraction of an inch for every inch the surgeon's hand moves. Even the most complex movements, including delicate resections, intracorporeal suturing and knot-tying become smooth and simple with this technology.
The surgeons of Los Angeles Colon and Rectal Associates are proud to use robotic surgical technology in their surgical practices, in order to continue to deliver compassionate, expert medical and surgical care to patients. Recent advances in technology, and research into the effectiveness of minimally invasive procedures have shown clear benefits in applying these methods. Finally, the LACRSA surgeons, trained and certified in the use of robotics, are applying this cutting edge technology to operative treatment of colon and rectal tumors, in addition to certain benign colorectal conditions.
All of the surgeons of Los Angeles Colon and Rectal Surgical Associates are board certified and have many years of experience. The group was founded in 1957 by Norman N. Hoffman M.D., and has seen the addition of Gary H. Hoffman M.D., Eiman Firoozmand M.D., Liza Capiendo M.D., Stephen Yoo M.D. and Allen Kamrava M.D. The group functions seamlessly as a unit in order to ensure a consistent high quality of  care for  patients.
Known for innovations in surgical treatment, the surgeons of Los Angeles Colon and Rectal Surgical Associates provide state-of-the-art care in both the office setting and in the hospital and operating room.  Advances in surgical care include PPH (Procedure for Prolapse and Hemorrhoids), THD (Transarterial Hemorrhoidal Dearterialization), laparoscopic, and now robotic-assisted, colorectal and general surgery, and the use of long acting local anesthetics in anorectal operations.  The surgeons of  Los Angeles Colon and Rectal Surgical Associates have been, and remain, on the forefront of these exciting technologies.
Los Angeles Colon and Rectal Surgical Associates
9400 Brighton Way, Suite 307
Beverly Hills, CA 90210
+1 (310) 273-2310