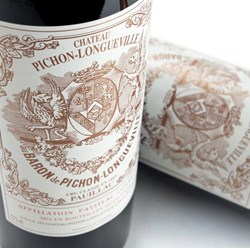 Every pulled cork opens a floodgate of memories.
San Francisco, CA (PRWEB) January 13, 2014
Benchmark Wine Group's newest wine acquisition comes from a wine cellar in rural Connecticut; a cellar of souvenirs. Major highlights stem from California and Bordeaux, two of Benchmark's favorites. The 3,300-bottle collection features Sine Qua Non, Hundred Acre, Kistler, Turley, Quilceda Creek, Château Pichon Longueville Comtesse de Lalande, Château Pichon Longueville Baron, Château Pavie, and Château Mouton Rothschild. The leading wine ecommerce company will release 'The Keepsake Collection' to the market January 14, 2014.
"We're honored to feature these rare wines at Benchmark Wine Group," says David Parker, CEO of Benchmark Wine Group. "They put a lot of effort into collecting wines from top international producers. You could tell from the labels laid out side-by-side in their immaculately built home cellar. It tells their story."
These hand-selected mementos are not the typical decorations that adorn the refrigerator after vacation. Rather, these fine and rare wines come from an incredible couple that found the perfect balance between work and play. Soon enough, travel opportunities became the regular and these East-Coasters formulated their excursions to include more wine-centric adventures.
The owners first-handedly fell in love with the land, its traditions and, most importantly, the people. Their wine souvenir tradition started in the Land Down Under, Australia. As the travels persisted, the wine cellar grew to become more diversified. Every pulled cork opens a floodgate of memories. These shared bottles come with enticing stories of worldwide voyage. Stories are much like wine, as they are both paired best with the ones you love.
The stone cellar at their rural weekend home is a wine aficionado's dream. Humidity and temperature controlled, and meticulously carved out into the underground stone. All wines have been inspected by the Benchmark Wine Group acquisitions team and are provenance guaranteed, as its standard business practice outlines. The wine bottles can be traced back to the original purchase source, as most were purchased directly from the winery.
The Napa-based wine company invites you to browse 'The Keepsake Collection' today.
About Benchmark Wine Group:
Established in 2002, Benchmark Wine Group acquires and sells fine and rare wine to and from retailers, restaurants and collectors. The premier online source for the world's top wines at market leading prices – Lafite, Petrus, Leroy, Krug, Sine Qua Non and Opus One – just to name a few! The Napa-based company draws on decades of collective wine industry experience to obtain the most sought-after wines in the world from private individuals and professional contacts. Benchmarkwine.com offers 24-hour access to the 25,000-bottle wine cellar, displaying inventory in real-time.