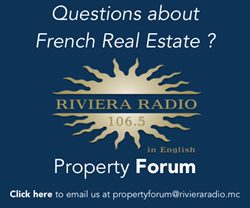 In order for you to make a wise investment, you need a good understanding of what and how you are purchasing.
Nice, France (PRWEB UK) 16 January 2014
A new Property Forum segment on Property Report of the Week on Riviera Radio 106.5FM has been launched to answer all the property related questions by Riviera Radio listeners. Hosted by Nice Properties Real Estate Group, listeners can now email their property related questions and hear the responses to their question every Thursday on Riviera Radio's Property Thursday.
As tax and property laws in France continually change, the Property Forum will serve to generally explain the changes as well as any other factors that affect foreign property owners and interested buyers.
Juanita Viale, International Marketing Manager for Nice Properties and host of "Property Report of the Week" explains, "It can be challenging to understand the buying or selling process of French property especially when you don't speak French. Considering the number of questions we receive at our agencies on a daily basis, we thought that it would be more useful to create a forum and talk about these frequently asked topics as well as give listeners direct access to get their questions answered."
Viale further adds, "After 3 years of giving property reports on Riviera Radio, we wanted to share our expertise in the French real estate market by giving listeners useful information so that they can make the best investment purchases according to their needs. In order for you to make a wise investment, you need a good understanding of what and how you are purchasing."
About Nice Properties
Nice Properties is the French Riviera's leading real estate group specializing in the sale of luxury villas, vacation homes, apartments, new build residential projects and commercial real estate. Offering the most effective professional multi-lingual network of real estate professionals with six agencies along the Cote d'Azur from Cannes to Beaulieu and two specialized departments for New Build and Commercial real estate. They provide an efficient and seamless platform for the best real estate opportunities and investments on the French Riviera along with a strategic marketing portfolio that covers both national and international markets. To find out more information please visit http://www.nice-properties.com.