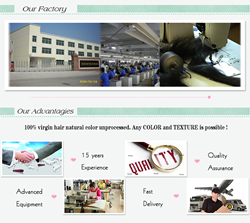 (PRWEB) January 16, 2014
Eqhair.net is a successful business in the hair product industry, offering a wide range of hair wefts. Its state-of-the-art production facility attracts many customers worldwide. Recently, the company has released its new designs of body wave Indian virgin hair wefts.
These high quality body wave Indian virgin hair wefts are offered in different lengths (8 to 30 inches) and the various styles (straight, wave or curl). They feature different styles which are specially designed by top designers in the industry. As a multi-award winning manufacturer, EQhair has always been specializing in top quality that is certified to ISO 9001 standard.
"The Indian virgin hair wefts showcased online are our latest products, and they are deigned for the current fashion environment. EQhair is dedicated to helping ladies connect with the latest fashion trends at the point of sale, which is becoming increasingly difficult in this day and age," says the spokesman for the company.
Now, those who follow EQhair.net on Twitter or like it on Facebook, Google+ or LinkedIn can get an extra discount of 20% off. The company wants to expand its international effluence through SNS.
EQhair also encourages ladies to showcase their personality by sending emails with photos to duke(at)eqhair(dot)net. The company will print the photos in pamphlets, brochures, booklets, posters and more. These publications will be sent back to the customers as a gift.
About EQhair
EQhair is a leading hair extension wholesaler and retailer. With over 15 years of experience in the industry, EQhair offers a wide range of fashionable hair products at reasonable prices. Its products are available in 14 shades (from the lightest blondes to the darkest black). EQhair is devoted to providing high quality hair extensions for the ladies worldwide, and it welcome any request and review from customers worldwide. More details at http://www.eqhair.net/WEFTS/100-Indian-virgin-hair.html/Indian-virgin-hair-body-wave-top-quality.html