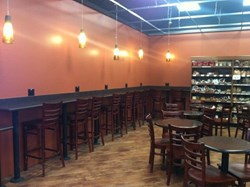 San Jose, CA (PRWEB) January 13, 2014
Leading commercial furniture distributor, Restaurant Furniture Supply recently helped Lunardi's Market, in San Jose, California update their seating.
Lunardi's Market is a full-service supermarket with locations throughout Northern California. The owner of Lunardi's Market, Alfredo Lunardi was born in Lucca, Italy. In 1950, at the age of 20, he left his native Italy to settle in San Francisco. By 1953, Alfredo acquired a local San Francisco market called "Mother's Market," located at 23rd and Irving Street. From that simple beginning, Alfredo, with help of his sons Ralph and Paul, eventually opened 8 locations in the Bay area.
The market has a deli and a fresh bakery. Other departments include cheese, meat, fresh produce, seafood and poultry and wine. They also offer catering for all events, large and small. Lunardi's prides itself on quality and customer service.
Lunardi's Market also gives back to the community through the eScrip program. Through this program Lunardi's contributes much needed funding to local schools and other non-profits each month. They also offer a 5% discount to seniors who shop in their stores on Tuesdays and Thursdays. Lunardi's is also environmentally responsible and has been one of the first in the industry to implement solar power as its primary lighting source.
"The owner contacted to Restaurant Furniture Supply for new restaurant chairs and bar stools because of their reputation for high quality at competitive prices," explained sales person Zach. "He decided to go with Restaurant Furniture Supply's Ladder Back Chairs and matching bar stools in mahogany finish with American solid wood seats".
The Ladder Back Chair is currently on sale for $56 and the Ladder Back Bar Stools are currently on sale for $77. Customers can choose from 6 different finishes or have a custom finish made for an additional charge. Customers also have the choice of a solid wood seat or an American made padded seat made of vinyl or other fabric which can be custom upholstered. As with most of Restaurant Furniture Supply's products, the Ladder Back Bar Stools are made in the USA from wood responsibly harvested in the Midwest and certified by the FSC (Forest Stewardship Council).
"It's the most popular chair in America with business owners. As a business that experiences heavy customer traffic, the owner knew he would need chairs and bar stools that would look great and would be durable and stand up to heavy usage," Zach remarked. All of Restaurant Furniture Supply's furniture is tested and certified by BIFMA, the Business Institutional Furniture Manufacturers Association.
Browse Restaurant Furniture Supply's full selection of commercial grade chairs, bar stools, table tops, table bases, booths and patio furniture at http://www.restaurantfurnituresupply.com or talk to a customer service representative at (888) 346-9992.
Lunardi's Market is located at 2666 S. Bascom Ave. in San Jose, CA. They can be reached at (408) 377-6661.