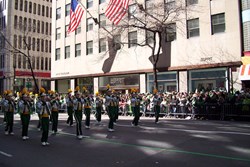 As part of this St Patrick's Day package, Globehunters customers can enjoy discounted tickets on the popular East Village Pub tour..
London (PRWEB UK) 14 January 2014
New York comes together to celebrate St Patrick's Day between March 15th and 17th 2014. To mark the occasion, Globehunters will be offering special packages at the Astor on the Park Hotel, overlooking Central Park in the midst of the St Paddy's excitement.
New York has long been associated with the Emerald Isle and on Monday 17th March, the biggest St Patrick's Day parade in the world will wind its way along Fifth Avenue and past Central Park. Over 150,000 marchers will take part in the parade which will be watched by millions on TV.
The world's oldest parade has been an annual event since the 1760s and draws over two million people to the New York's streets each year. Parade fanatics should head down to the parade route early. Those looking to hit the town afterwards should head to the southern ends of 2nd Avenue and 3rd Avenue to be able to make a quick escape to the bars.
As part of this St Patrick's Day package, Globehunters customers can enjoy discounted tickets on the popular East Village Pub Tour. This takes in some of New York's most atmospheric watering holes, as well as other notable East Village landmarks. Visitors will be able to soak up the St Patrick's Day atmosphere in a variety of iconic New York pubs including:
Old Town Bar - Voted 'Best Old Bar in New York' by NBC and named as one of Esquire magazine's 'Best Bars in America'; an atmospheric venue that dates back to 1892 and the perfect place to begin a night of St Paddy's merriment.
Pete's Tavern - Just a short stroll along East 18th Street and the oldest continuously operating restaurant and bar in New York City. Try a pint of their famous 1864 House Ale.
McSorley's Old Ale House - A veritable time capsule to a bygone era, with décor that's remained virtually untouched since 1910. McSorley's was a men-only bar until 1970 – and didn't even install women's toilets until 1986 - but nowadays everyone is made very welcome.
A five night stay at the 3* Astor on the Park – just a short taxi ride from the pub tour in the heart of Manhattan - is £579 per person, with direct flights from the UK included. The package also includes free entry to the Empire State Building Observation Deck. Customers can book with Globehunters online or by calling 020 3384 6000.
The East Village Pub Tour can be added to the package upon booking; tickets are available at an exclusive discounted rate of £35 per person.
ENDS
About Globehunters:
Globehunters is a UK-based online travel company that provides flights, accommodation and holiday packages, and offers market leading fares to travel destinations worldwide.
The company has an established relationship with travel partners, and offers some of the most competitively priced flight and holiday deals on the market, including: airlines, luxury hotels, resorts, boutique hotels, local tour companies and car hire companies throughout the world.
Globehunters is ATOL protected, IATA and ABTA members, providing comprehensive airline failure insurance to all its customers.