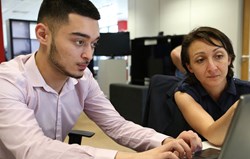 Google, Facebook, The Guardian, AO.com - and 70 other employers - are all recruiting apprentices right now.
London, UK (PRWEB UK) 14 January 2014
Arch, the UK's leading digital apprenticeship programme, has announced that it has started 2014 strongly, recruiting young people for over 100 apprenticeship vacancies, the highest number of IT and digital apprenticeships since its launch in August 2012.
Google, Facebook and The Guardian are working with Arch to recruit apprentices in London, along with 40 other employers who represent a range of sectors and sizes. Arch is also building on its successful launch in Manchester in October 2012, working with leading online retailer AO.com and ten other employers in the North West to find them the next generation of IT and digital talent.
Ben Rowland, co-founder of Arch, commented on this strong start to the year: "We started over 120 young people on apprenticeships in 2013. We also saw the first 25 apprentices who started in autumn 2012 successfully qualifying and, for the vast majority, securing permanent employment with the firm they did their apprenticeship with. It's great that so many organisations, from digital marketing agencies to Government departments, and from global firms to new start-ups, are recognising the value that young people doing apprenticeships can bring to their organisations."