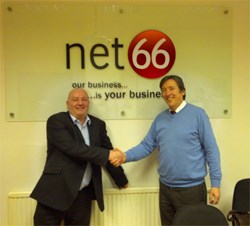 The company has kept its family values despite its exponential growth.
Manchester, England (PRWEB UK) 13 January 2014
Manchester has in recent years been at the centre of a digital business explosion. Now famed for being the tech hub of the North, there have been thousands of start-up SEO and web design companies that have blossomed in this new, exciting and vibrant community. However it's not all honey for the bees, for every one company that succeeds, several more will fall by the wayside.
One success story really stood out to me though and that is the company Net66, an SEO & Web Design company that has seen a father and son partnership working together for years now. A success story of launching a website and successfully becoming the number one ranked SEO Manchester company.
The company was founded on family values and has managed to keep them despite the company's exponential growth. Several other family members have also joined Net66 reinforcing just how serious they are about doing things right, and tempering those family values into the fabric of the company.
To put this rise to the top in perspective, when Net66 were just starting out, the company were based in the spare room of a house in Littleborough, Rochdale. The company assets were one phone and two computers. Tom McVey, the son, was in charge of sales and customer services. Neil McVey, the father, was in charge of building the websites, optimising them and administration tasks. They both worked together on the books and had only just released the website.
Fast forward to today and this partnership now has several offices in Manchester City Centre close to Piccadilly train station and the website that had been released has had several redesigns and now sits at the top of Google. Being so close to Piccadilly has enabled them to have several of their clients visit them from afar afield as London, Brighton & Ireland to discuss their Net66 SEO packages.
Not only has their location improved geographically and in the search engines, but now there are a host of talents working for this creative company. Once it was a solitary Neil having to manage all website designs, developments and SEO but now the have a separate department for each of these specialities. When it was also just Tom having to speak to clients day in day out all day every day, occasionally finding time to squeeze a sale in here and there, there's now a whole customer service department and sales division.
Not only do they each have their own departments, but these departments work together on a regular basis. This cohesive work has resulted in the company's recent expansion and the launch of their online customer service portal.
Their SEO department has also earned its stripes having gotten hundreds of clients to the first page of Google. They also have worked hard to promote Net66 with it now sitting #1 on Google for the search term "SEO in Manchester": A competitive keyword in a competitive industry. Their website design department also gets honourable mentions as some of their designs have won awards for our clients.
It's clear to see that Net66 are passionate about their work and that they really do go the extra mile for their clients. You can see this no more clearly than on their reviews page where there are more than just a few glowing reviews for them.
It's great to see in modern times that what began as a local start up, can still progress to becoming an internationally known company whilst still retaining the roots that it was born from at its beginning.
Net66 are a family run company based in Manchester offering SEO & web design services. Established in 2004 as a local business, they've have worked their way to the top of the SEO rankings for their business. They celebrate their 10 year anniversary today.