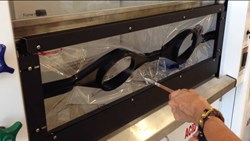 Isolation Sciences is pleased that the CAP energy reduction claim is validated. - Chuck Akers CEO
Williamsville, NY (PRWEB) January 13, 2014
Isolation Sciences recently received recognition from the New York State Pollution Prevention Institute for its Continuous Access Port invention.
The Continuous Access Port device was found to reduce conditioned lab air exhaust volumetric flow by 83 percent when compared to the same fume hood left in its open working position of 20.625 inches. The annual cost savings associated with the reduced flow is just under $2,700, assuming a cost of $5 per year for conditioned laboratory air.
The CAP is designed to fill the gap between a partially-open lab fume hood door and the fume hood table top. The CAP frame is covered by a transparent film divided by a horizontal zipper. Two openings allow a lab worker to access experiments inside the fume hood without actually opening it.
According to the report published by the New York State Pollution Prevention Institute, "even in an application with limited fully open time, like the RIT fume hood (used in the study), the CAP can provide significant energy cost savings from the reduction of conditioned laboratory air exhausted from the building." The study also found that "the smoke test results demonstrated that the CAP-filled fume hood opening contained contaminants as well or better than an open fume hood with the same face flow velocity."
For more information about the CAP or Isolation Sciences, please visit their website or call them at 716-984-9220.
<br>About the Company:<br>Isolation Sciences LLC is an innovation leader in providing value added, practical energy management products to realize savings in commercial laboratory energy consumption and isolation/containment risk management solutions to protect individuals against airborne chemical and biological vapors and aerosols that are hazardous to human health. The company's patented Continuous Access Port [CAP] concept provides practical and cost-efficient air containment solutions to meet energy and risk management needs in the commercial, academic and medical markets. For more information, visit Isolation Sciences' website at http://www.isolationsciences.com/.