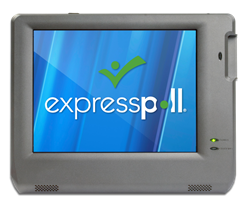 After reviewing proposals from nearly all electronic poll book vendors, our evaluation team members unanimously selected ES&S
Omaha, NE (PRWEB) January 13, 2014
The Board made the award in December to purchase more than 2,100 ExpressPoll®-5000 voter check-in and management devices and related software to support Chicago's 1.6 million registered voters.
"After reviewing proposals from nearly all electronic poll book vendors, our evaluation team members unanimously selected ES&S," said Lance Gough, Executive Director for the Chicago Board of Election Commissioners. "The committee thought that ES&S offered the best hardware and software and technical support to meet the needs of the city's voters and the Board's poll workers and election staff."
The ExpressPoll-5000 system purchased by the Board of Election Commissioners includes CentralPoint™, ES&S' web-based application that displays, monitors and tracks poll place information in real time. Another ES&S application, BridgePoint®, will automate and update the city's voter registration system and ExpressPoll-5000 devices so systems are always up-to-date.
"ES&S is excited to partner with the City of Chicago to bring the industry's latest and best voter check-in technology to its voters," said Judd Ryan, ES&S regional sales manager. "With the ExpressPoll-5000 system, Chicago voters and election officials can be assured of a speedy check-in process, and election officials will know their voter registration files are up to date and accurate."
ABOUT ES&S: Election Systems and Software, LLC (ES&S) is the world's largest elections-only company, providing election equipment and services for more than 43 years. Learn more about ES&S at http://www.essvote.com and on Facebook at facebook.com/essvote.