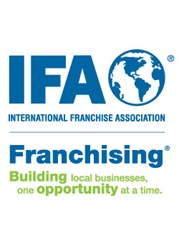 Washington, DC (PRWEB) January 13, 2014
The Industry Joins Chairman Camp in Calling for Comprehensive Tax Reform to Boost Economy
Franchise businesses are expected to grow faster and create more jobs than the rest of the economy again in 2014, according to research released today by the International Franchise Association (IFA) Educational Foundation. Developed by IHS Global Insight, The Franchise Business Economic Outlook: 2014 reveals that growth in franchise establishments, output and contributions to U.S. gross domestic product will exceed that of 2013.
"Throughout the recession and tepid, uneven economic recovery, the strength and entrepreneurship of the franchise sector has been a consistent job creator for the U.S. economy," said IFA President & CEO Steve Caldeira. "While the economic forecast is improved, reform of both the individual and corporate tax codes is long overdue. Given that small businesses create two-thirds of net new jobs, any tax reform must address both corporate and individual rates, so franchise small business owners can invest in building more units and creating more jobs. We applaud and thank Chairman Camp for his leadership on this critically important issue for American businesses."
"Now is the time for Washington to advance meaningful polices to spur investment, create more jobs and increase paychecks again," said House Ways and Means Committee Chairman Dave Camp (R-MI). "Fixing our broken tax code so that it is simpler and fairer is critical to achieving those goals and can provide the certainty and growth opportunities that job-creating industries like franchising need."
The need for comprehensive tax reform was highlighted by a survey conducted by BDO of franchisees and franchisors, which found that 69 percent of franchisors and franchisees agreed that lower corporate or individual tax rates are important, even if some deductions are lost.
This finding mirrors that of IFA's Franchise Business Leader Survey, which found that more than 90 percent of franchisors and franchisees want to see a simplified tax code with lower individual and corporate tax rates. IFA represents the interests of both corporate and individual tax filers, including LLC's, s-corps and partnerships.
"IFA supports Chairman Camp's approach to comprehensive tax reform given the success of corporate and individual tax filers that make up the franchise industry are inextricably linked through their franchise agreements. Any effort to address corporate-only tax reform should be rejected due to the disadvantage it would place on many small franchisors and the vast majority of franchisees who file taxes under the individual side of the tax code," Caldeira added.
Key findings from the business outlook released today include:
•Franchises are expected to add nearly 200,000 new jobs in 2014. The pace of employment gains is expected to remain steady compared to 2013, but will continue to outpace total private sector employment growth by 0.3 percent.
•The number of franchise businesses in 2014 is expected to rise by 12,915 in 2014, bringing total establishments to 770,368. The 2014 establishment growth rate is expected to rise to 1.7 percent from 1.4 percent in 2013. This will continue to be in-line with the growth of overall business formation across the economy.
•Within the franchising sector, business services, commercial and residential services, and quick service restaurants are expected to be drivers of job creation of 2014. With the fastest growth rate, business services is expected to add 35,109 franchise jobs in 2014, while quick service restaurants, the largest sector in franchising, is expected to create 75,596 new jobs.
"Reduced fiscal drag, improved consumer spending, continued gains in housing market activity and stronger export growth are driving slightly higher growth forecasts in 2014," said IHS Global Insight Senior Economist Jim Gillula. "While improved, these forecasts are still below pre-recession growth rates."
IFA continues to advocate for legislation that will support further industry growth beyond the modest projections of 2014. "Franchises have demonstrated throughout these past several years that we can grow and create jobs, but it's past time for Washington to do its part and focus on pro-growth policies, including comprehensive tax reform to unlock America's growth engine," added Caldeira.
About the International Franchise Association
The International Franchise Association is the world's oldest and largest organization representing franchising worldwide. Celebrating over 50 years of excellence, education and advocacy, IFA works through its government relations and public policy, media relations and educational programs to protect, enhance and promote franchising. Through its media awareness campaign highlighting the theme, Franchising: Building Local Businesses, One Opportunity at a Time, IFA promotes the economic impact of the more than 825,000 franchise establishments, which support nearly 18 million jobs and $2.1 trillion of economic output for the U.S. economy. IFA members include franchise companies in over 300 different business format categories, individual franchisees and companies that support the industry in marketing, law and business development.