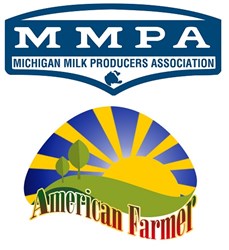 Novi, MI (PRWEB) January 17, 2014
Michigan Milk Producers Association announced today that they will be featured in an upcoming episode of American Farmer, airing second quarter 2014 on RFD-TV.
MMPA was formed on May 23, 1916 when a small group of dairy farmers from the Howell area gathered at what was then the Michigan Agricultural College in East Lansing. They met to establish a stable, reliable market and price for their milk. The principles and organizational structure that these intuitive farmers established in 1916, laid the ground work for what is now an integral part of today's dairy industry.
In this episode, American Farmer will explore the Michigan Milk Producers Association, and will educate audiences on some of the latest breakthroughs and sustainable initiatives taking place in the dairy industry.
"We are honored to be featured by the American Farmer," says Ken Nobis MMPA president and dairy farmer from St. Johns Michigan. "Our members do an excellent job producing high-quality milk while implementing relevant sustainability practices. As a co-op we consistently rank in the top 10 in the country for milk quality and production making us a leader in the dairy industry. We are excited to tell our story to this national audience."
"The amazing history behind the Michigan Milk Producers Association, and the cooperative they have created is something to aspire to." said Chad Densen, Executive Producer for American Farmer. "Everyone here at American Farmer is excited to showcase this special group of people."
Michigan Milk Producers Association is a member-owned dairy cooperative serving over 2,000 dairy farmers in Michigan, Ohio, Indiana and Wisconsin.
For more information, visit: http://www.mimilk.com or call 248-474-6672.
About American Farmer:
American Farmer is a breakthrough program on a mission to showcase the latest advancements in agriculture and farming. From seed to harvest, livestock and more, our producers have traveled the country covering the people, places and issues impacting all areas of farm country.
American Farmer airs Tuesdays at 8:30am ET on RFD-TV as well as Tuesdays at 12:30pm and Saturdays at 1:30pm ET on FamilyNet.
For more information, visit: http://www.AmericanFarmerTV.com or call (866) 496-4065.
Media Contact: Chad Densen
Executive Producer /American Farmer
Phone: (866) 496-4065 x 801
Email: Chad(at)AmericanFarmerTV(dot)com