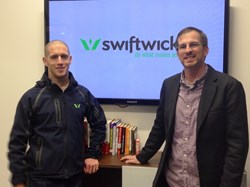 The Swiftwick [socks] brand is already strong in Texas and Colorado, where active lifestyles and the 'do what moves you' attitude has roots...
Brentwood, TN (PRWEB) January 13, 2014
Swiftwick, a leading U.S. producer of athletic compression socks, announces today its opening regional offices to better serve the western region.
The new regional offices will be an extension of Swiftwick's headquarters in Brentwood, Tenn. The sales team in each new office will work to promote the brand and sock lines in local specialty shops. Both the Denver and Austin, Texas markets embody Swiftwick's culture and personality with their focus on active lifestyles and innovation.
"The Swiftwick brand is already strong in Texas and Colorado, where active lifestyles and the 'do what moves you' attitude has roots," said Mark A. Cleveland, CEO and co-founder of Swiftwick. "Because of our strength in these ultra-cool markets, we're moving employees and resources there to up the intensity."
The expansion comes after a year of substantial growth for Swiftwick. In 2013, Swiftwick brought in record-breaking revenue with 33 percent overall growth. With no plans to slow down, Swiftwick is preparing to introduce several new product lines in 2014. The two new regional offices will provide additional marketing support for the brand, as well as set the stage for growth. Leadership relocated from the company's headquarters in Nashville include Wil Emery, south central region sales manager in Austin, Texas and Tim Dennis, western region sales manager in Denver. Both are veterans of the Swiftwick culture.
"Swiftwick socks are the perfect match for athletes in both cities because these are high tech areas filled with environmentally-conscience consumers and fitness enthusiasts of all kinds," said Wil Emery, south central region sales manager at Swiftwick. "In 2014, we're looking forward to expanding our relationships with both the retailers and local fans of the brand throughout the western states."
Swiftwick's performance athletic sock lines are exclusively manufactured in the U.S. using environmentally friendly processes. The socks have quickly gained support from some of the world's top athletes for their compression, comfort and moisture-wicking abilities.
About Swiftwick
Founded in 2008, Swiftwick is headquartered in Brentwood, Tenn. The company is a performance sock manufacturer that proudly employs an American workforce in high-quality textile manufacturing. Swiftwick is an innovator in designing and producing superior socks. The company has a culture focused on manufacturing through environmentally friendly means, social responsibility and leading customer service. Learn more at http://www.swiftwick.com.