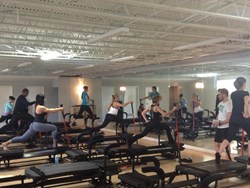 Bethesda, Maryland (PRWEB) January 14, 2014
Megaformer Pilates has finally made its way from New York and LA to Bethesda, MD. Sculpt Studio is happy to announce their grand opening on January 25th. The studio has 10 Megaformer machines waiting to sculpt area residents via intense 50 minute workouts that include cardio, strength training and sculpting movements.
Local fitness guru Mary Farber and her partners Ginine Beyer and Danielle Tate teamed up to make a Megaformer studio in Bethesda a reality. Megaformers, although similar to a standard pilates reformer, are engineered distinctly different in that the machine creates 360 degrees of resistance. The added functionality results in exponentially increasing the number of muscle groups targeted, energy expended and calories burned.
Clients of all fitness levels are welcome at Sculpt Studio. Gentle Sculpt classes are ideal for individuals easing back into a workout routine or recovering from injuries. Sculpt All Levels classes are designed to reshape the masses, and expectant mothers or new moms have a specialized Mega Mammas class.
Ready to get sculpted? Check out the studio at 4900 Auburn Avenue, Bethesda, MD and like us on Facebook to receive a free Megaformer class.
For more information or to request an interview, please contact support(at)sculptpilatesstudio(dot)com or call 240.600.0730.
Sculpt Studio
http://www.SculptPilatesStudio.com
Facebook/sculptstudio
@sculpt_studio
4900 Auburn Avenue
Bethesda, MD 20814
240.600.0730