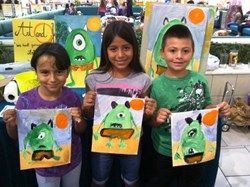 "We're excited to kick off the New Year with a fun variety of culturally driven events every Friday evening!" says Maggie Anzardo, Marketing Director of Southland Mall.
Miami, FL (PRWEB) January 13, 2014
Southland Mall is proud to announce the continuation of their weekly "Festive Fridays" event series throughout the 2014 calendar year. The events will incorporate an eclectic mix of new performers that showcase diverse cultures and musical genres. Every Friday, shoppers are invited to the mall's Center Court to enjoy live entertainment alongside their family and friends from 6:00 p.m. to 8:00 p.m.
Below is a list of events for the month of January:

January 17th – The Greater Miami Youth Symphony will present their coveted string quartet. The talented young musicians will perform both classical and modern music.
January 24th – Travel to the Indian Peninsula as intermediate and professional dancers from "Bellydancing by Shayna" present their popular bellydancing moves.
January 31st – Raquel Torrent presents her highly anticipated "Art & Juice" workshop. Our Center Court will be transformed into an art studio where children will be able to paint their own original art piece with the help of Torrent's easy to follow instructions.
"Festive Fridays" are free events that are open to the public. Southland Mall is conveniently located on U.S. 1 and S.W. 205th Street, off the Florida Turnpike, Exits 11 or 12. For more information on Southland Mall or to learn about partnership opportunities for upcoming "Festive Fridays," email inquiries to info(at)thinkpeacock(dot)com.
###
About Southland Mall
Southland Mall, located in South Miami-Dade County, Florida, the densest, most populous county in the southeastern portion of the state of Florida, has over 1 million square feet of gross leasable area. Southland Mall is conveniently located on U.S. 1 and SW 205th Street, off the Florida Turnpike, Exits 11 or 12, and is the only enclosed regional mall servicing South Miami-Dade County down to the Florida Keys. Southland houses over 100 specialty stores, including Macy's, Sears, JC Penney, TJ Maxx, Old Navy, Starbucks, a 16-Plex Regal Cinema and diverse Food Court. For more information about Southland Mall, visit mysouthlandmall.com on your mobile device, follow us on Twitter @solandmall, 'Like' us on Facebook at southlandmallmiami, or call (305) 235-8880.
About Gumberg Asset Management Corp.
Gumberg Asset Management Corp., a diversified real estate retail organization with a tradition of uncompromising integrity and unbeatable performance is the manager of Southland Mall. For further information, visit the Company's website at http://www.gumberg.com.