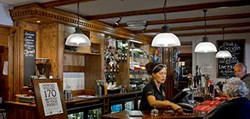 Spirit Pub Company saves 80%+ energy over 860 pub estate
Ware, Hertfordshire (PRWEB UK) 14 January 2014
Lighting design, installation and maintenance company Weblight is continuing the rollout of LED lighting for 860+ of Spirit Pub Company's pubs, including brands Flaming Grill, Fayre & Square, Chef & Brewer, John Barras and Taylor Walker.
The company is focusing on all guest and front of house areas and is delivering an average energy saving of 80 per cent across the 860 pubs.
Weblight has signed a five year contract with Spirit committing to replace any failed lamp on a three-day call out basis.
About Weblight: Weblight provides energy efficient lighting design, installation and maintenance solutions to the Retail, Healthcare, Commercial, Manufacturing, Transport & Logistics and Education sectors, whilst also working in partnership with many Facilities Management companies.