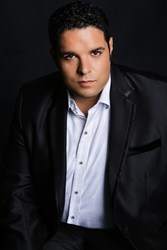 Orlando, FL (PRWEB) January 13, 2014
After returning to his hometown in Central Florida following his meteoric run on NBC's #1 summer show "America's Got Talent," world-renowned tenor Fernando Varela will make his debut performance in Winter Park, FL on Friday, January 31 at the Trinity Preparatory Auditorium at 8pm. A long-time resident of Orlando, Varela's tenor trio Forte took America by storm making it to the finals and placing 4th overall out of the 75,000 acts that auditioned for the popular television show. Minutes after the finale, Forte was signed by Columbia Records, and their self-titled album was released this past November.
Presented by Trinity Prep Patrons of the Arts as part of the 2014 Ethel S. Danhof Fine Arts Series, Danhof, the series namesake, is thrilled to have Fernando take the Trinity Prep stage. "I have known Fernando for many years since the time he participated in VOICExperience, the summer program where I was on stage," Danhof says. "We are fortunate that Fernando lives in the Orlando area and will be able to kick off the year with us, and we look forward to a wonderful evening of music."
Varela is looking forward to performing in the intimate 800-seat auditorium and will sing across various musical genres for the unforgettable show. "There's nothing like returning to your roots to do what you love most in front of the very people from the community where things got started," says Varela. "After the wave of excitement from this past year and the incredible journey I am so fortunate to have been on, I am looking forward to performing on the Trinity stage and hope that the people of Central Florida will come out to hear me and support this wonderful organization in the arts."
Varela has kept up a sizzling pace over the past year, highlighted by debut performances with the National Symphony Orchestra at The Kennedy Center for the Performing Arts in Washington, D.C., Carnegie Hall, Radio City Music Hall in New York City and singing for President Barack Obama at The White House.
Varela has drawn critical acclaim while touring the world both on his own and with music legend David Foster. Foster, a 16-time Grammy Award winner, recently said of Fernando, "You are my secret weapon. There's no one in the world that can do what you do." Also, after a recent performance, singing icon Barbra Streisand said of Varela, "I think you're going to be a big star. Why you aren't singing at the Met is beyond me."
As part of the Danhof Fine Arts Series, Varela will also conduct a master class for students to be held at the school this Thursday, January 16. Trinity Prep's January 31 concert with Fernando Varela will feature Varela's live band and some special guests. Tickets can be purchased online at http://www.TrinityPrep.org/Buy-Tickets. The Trinity Preparatory School Auditorium is located at 5700 Trinity Prep Lane, Winter Park, FL 32792.
For more information on Fernando Varela, visit http://www.FernandoVarela.com.
Media Contact: Ilene Lieber, 321-277-7812, ilene(at)passionprconsulting(dot)com