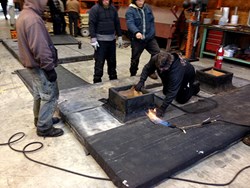 Eric Jurin's years of roofing experience make him an excellent CERTA trainer. - Janice Davis, NRCA
Quakertown, PA (PRWEB) January 14, 2014
Jurin Roofing Services, headquartered in Quakertown, PA, spent January 7th and 8th certifying and re-certifying their employees in the CERTA (Certified Roofing Torch Applicator) program. The purpose of the CERTA program is to provide roofing professionals with the necessary safety training to enhance professionalism and reduce personal injuries and property losses caused by the use of roofing torches.
CERTA delivers these requirements through a certification program where authorized trainers deliver effective behavior-based training to roofing workers. Eric W. Jurin, CEO of Jurin Roofing Services is a certified CERTA trainer and conducted the training at their Quakertown training facility. Eric Jurin has been a CERTA trainer since 2005 and a certified torch applicator since 2007. He has also performed safety training on behalf of the NRCA for their Fall Protection class in February 2010 in New Orleans at the NRCA convention titled "Roofing Industry Fall Protection A-Z."
Janice Davis, Manager of NRCA's University and Risk Management has worked with Eric Jurin since 2005. "Eric Jurin's years of roofing experience make him an excellent CERTA trainer. His ability to apply his years of field knowledge to the CERTA training materials allows him to not only present the information but to ensure understanding of real world application."
In 1986, the Midwest Roofing Contractors Association (MRCA) in conjunction with industry organizations, the Asphalt Roofing Manufacturers Association, and the United Union of Roofers, Waterproofers and Allied Workers developed a program to train roofing workers in the safe application of torch-applied roof systems. In 2003, insurance industry representatives approached the NRCA (National Roofing Contractors Association) to address concerns about increasing incidents and losses occurring from roofing workers' torching activities. The need for focused safety training addressing torching activities became apparent. NRCA arranged with MRCA to adopt and revise the CERTA program.
The current CERTA program provides the best practices and newest industry requirements for torching activities. There is no comparable training program available in the roofing industry.