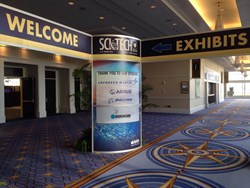 SciTech is the world's largest event for aerospace research, development and technology.
Bristol, PA (PRWEB) January 14, 2014
DUNMORE Corporation, along with Lockheed Martin, Airbus and Boeing, is helping the American Institute of Aeronautics and Astronautics (AIAA) kickoff their 2014 Forum program by sponsoring the first event of the year.
AIAA dives right into the New Year with its Science and Technology Forum and Exposition (SciTech 2014) taking place January 13-17, 2014. SciTech is the world's largest event for aerospace research, development and technology and an amalgamation of emerging technologies with industry research and government policy.
DUNMORE is proud to be a sponsor for this event, referred to by AIAA as a "catalyst for inspired idea exchange, cutting across highly specialized technical disciplines, and advancing aerospace business solutions." It's a unique aerospace event in that it that brings the full spectrum of aerospace professionals together in one place.
DUNMORE will be co-exhibiting with partner Bron Aerotech, Inc. (Denver), a leading provider of high-performance tapes, films and fabrics to the aerospace and defense industries. Spokespeople from both companies will be available to discuss detailed technical qualities of DUNMORE's products, which have traveled throughout the solar system on numerous space programs. And we want to know, "What will YOU think of next?" Your science, Our materials, Problem solved.
About DUNMORE
DUNMORE Corporation is a global supplier of engineered coated and laminated films. DUNMORE offers film conversion services such as coating, metallizing and laminating along with contract film manufacturing. DUNMORE produces coated film, metallized film and laminating film substrates for the aerospace, photovoltaic, graphic arts, packaging, insulation, surfacing and fashion industries. DUNMORE is privately held, ISO 9001:2008 and OSHA VPP Star certified. For complete information on DUNMORE's products, services and industries served, please visit DUNMORE's website http://www.dunmore.com/.