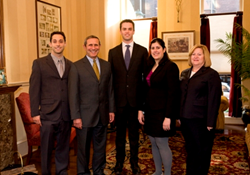 (PRWEB) January 16, 2014
Pozzuolo Rodden P.C., Philadelphia Estate Planning Lawyers, releases the question of the month: "Are there any risks or disadvantages to my 80 year old father, who has a $200,000 gross estate, drafting his own simple will from an online will kit?"
Yes, there are risks and disadvantages to him using an online Will Kit. Those risks and disadvantages may not be evident to him when he uses the online will form, but they will become clear after he dies when his estate must be administered according his will. The risks and disadvantages include issues with flexibility and customization, incompleteness, outdated information, and a lack of education.
Flexibility and Customization. Online will forms and products may contain boilerplate language that may not be customizable. He may be locked into certain provisions and distribution schemes. While, given the size of his estate, it is doubtful he would have complex distribution schemes, if he wanted to add complexity, the online will kit may be limited in the types of provisions it allows. For example, if he were to want to distribute money in trust rather than outright, an online product may provide only certain ages or circumstances under which the beneficiaries of the trust would receive distributions.
Another scenario an online will form may not be able to address is if he has a pet that he wants to be taken care of. The online will product may have no provisions addressing pets. Essentially, the online will forms and products may not allow him to distribute property as he wishes.
On the other hand, it may allow him add clauses that contradict other clauses within the will. Ultimately, this will cause ambiguity under the will and make the administration process more difficult.
Incompleteness. If he wanted to create a trust or have a nuanced distribution provision, the online will product may not offer the proper terms. Online will forms may not allow him to address certain other property he owns such as digital assets or pets. If he wanted to leave property to a minor or incapacitated individual, that property may not be distributed outright to him or her. The online will product may not be able to provide alternatives.
Outdated Information. Some online will forms may lack up-to-date information. In August 2011, Consumer Reports reported that it tested three different electronic will forms and two referred to outdated federal estate tax limits. Although, as described above, his estate would not be subject to a federal estate tax given the size of his estate, the fact that some products are offering outdated information must be alarming and casts a shadow of doubt as to the reliability of the product as a whole. The state death tax laws may be even more nuanced and if the products are carrying outdated information for federal taxes, it is likely they are not up-to-date on state tax law. The problem, of course, is that unless your father was knowledgeable about estate and tax law, he would not even know if the products were outdated.
Lack of education. The biggest problem with using an online will form or product is that he may not be provided the proper education about what exactly it is he is preparing. Wills are legal documents that are binding once the testator dies. He may not get the proper education as to what the provisions mean and how they will work. He may not learn, for example, that there may be problems under state law with his will if he does not provide a distribution to his spouse or child.
It is also doubtful that the online will form will explain other aspects of estate planning, such as the different types of jointly owned property and that certain types of jointly owned property is not administered according to the will. Thus, he may want to bequest his share of jointly owned property to a child not realizing that when he dies, the entire property goes to the other joint owner. If his only asset is a house which he owns with his wife, who is still living at his death, then how he says he wants to leave the house under his will may be irrelevant.
The online will form may also not explain to him the importance of who he selects as executor. Will he appoint his wife, who is also 80 years old? His estate is small enough that it may not require an executor with advanced financial knowledge or experience in handling estates, but administering the estate is still a legal process supervised by the court. He needs to consider that when appointing an executor.
Estate planning can be complex. Although his has a small estate and may want to provide outright distributions, there are still issues with executors and payments of fees, costs and taxes. He may not address all the issues using the online will form.
If you would like to read other estate planning topics please visit the blog on our web site: http://www.pozzuolo.com
Contact our Philadelphia Estate Planning and Business Law Firm with your questions, comments or concerns.
Pozzuolo Rodden, P.C. provides specialized cost-effective legal services to privately held business owners and high-net-worth clients in Pennsylvania and New Jersey in excess of 35 years.
Practice Areas: Business/Commercial Litigation | Business/Corporate Law | Family Law | Family Litigation | Real Estate | Employment Law | Estate Planning and Estate Administration| Tax & Pension Law
Pozzuolo Rodden, P.C.
Counselors at Law
2033 Walnut Street
Philadelphia, PA 19103
215-977-8200
http://www.pozzuolo.com